Did you just make up your mind to not sit in one place and work, but instead travel to different places as you work as a freelancer? Well, then you are ready to become a digital nomad. But before you can start your digital nomad business, select a country and fly off, there are a few things that you need to take care of. The first thing is to check about the countries that offer digital nomad visas.
And this is just the start. There are a lot of things that you need to take care of. This article will help you with all the steps you need to take care of. Keep reading to learn all!

Digital Nomad
If you are one of those people who dream of the nomadic lifestyle, you are not alone. But if you are about to walk down this road, you need to know that this process is not an easy one. Let us begin by understanding what a digital nomad is and how it is becoming one beneficial for your freelance business.
What is a digital nomad?
A digital nomad is a remote worker who while working usually travels to different locations. These kinds of workers usually are found working in public libraries, co-working spaces, or coffee shops. And they normally rely on devices that have wireless internet capabilities such as mobile hotspots and smartphones to get their work done from anywhere.
In fact, a lot of offices have now encouraged the work from home or remote working ideas. And with 34% of remote employees working for just 4 to 5 days a week, the digital nomad lifestyle is something that has become common. Traveling around as you work remotely would help you achieve two things, living your life and dream of traveling and exploring; and getting the work/your project done on time. The digital nomad business is much better than the simple 9 to 5 job.
Pros and Cons of Being a Digital Nomad
Just to be clear, the digital nomad online business and lifestyle might not be for everyone. So, it is important to look at both the benefits and the disadvantages that come with it. If anything doesn't suit you, it is better to find a way out or altogether avoid the idea. Let us look at the pros and cons of starting a freelance business:
Pros – They include:
Finding motivation in new settings and experiences. 
Enhancing your quality of life by traveling to those countries where the US dollar has more value than the local currencies. 
You get the chance to live life traveling the world, learning new things, and meeting new people.
Getting the freedom to travel to any place you want to, and work wherever you like.
You become your own boss and work whenever and wherever you like.
Cons – They include:
Potentially getting "stuck" in a country due to COVID-related restrictions or any other crisis.
Dealing with local things like medical and housing, that might not be easy for you.
If you end up not getting a project for a while, you can end up not earning money in your business for that time causing you financial difficulties. 
Keeping yourself motivated when it comes to running your digital nomad online business. 
Feeling alone and unable to meet people who think like you can cause frustration and affect the work. 
Learning how to be a digital nomad and finding out that it is not something you can do.
If these negative points are not something that would affect you, then you can easily move ahead and walk towards starting your digital nomad business. 
Most Popular Skills and Jobs for a Digital Nomad 
Currently, many companies have embraced the idea of remote work. In fact, about 43% of the American employees spent their time working remotely last year and this number is only going to increase. But working a few days at home and being a digital nomad are two very different things. How to be a digital nomad? Well, if you want to keep your job while traveling, you will need to prove to your manager that you can handle full-time remote work before you do any work on the road.
And if you are searching for a new job that would allow you to work remotely, then check on sites like Remote.co or We Work Remotely. You can also turn into a full time freelance professional if you have the skills. Whatever you choose, becoming a digital nomad does not mean pigeonholing yourself in a specific role. Your work just has to be completely digital. Here are common roles that you can take up as a digital nomad:
Writing
Virtual Assistant
Transcription
Teacher/Tutor
Software Development
Sales
Recruiting & HR
Quality Analyst (QA)
Project Management
Marketing
IT
Healthcare
Editing
Design
Customer Service
Accounting
In short, there are a lot of industries that support remote working. You just need to see which one are you best at and plan for your digital nomad business registration then.
How to be a digital nomad?
Becoming a digital nomad is not tough, but it is not that simple too. There are some things that you will need to keep in mind while you venture out to start your freelance business. Here are some steps that would help you:
#1 Identify your skills
For you to be sure that a digital nomad business is what you can handle, you need to see if you have the skills and a proper business idea for it. In short, get your business plan in place that would revolve around your skills. See if you can transfer your concepts into services and products that you can sell. You can look into this by using the SWOT analysis process. This means that you need to look at your strengths, weaknesses, opportunities, and threats. It is a great way to begin to think about your digital nomad online business. 
#2 Become a Freelancer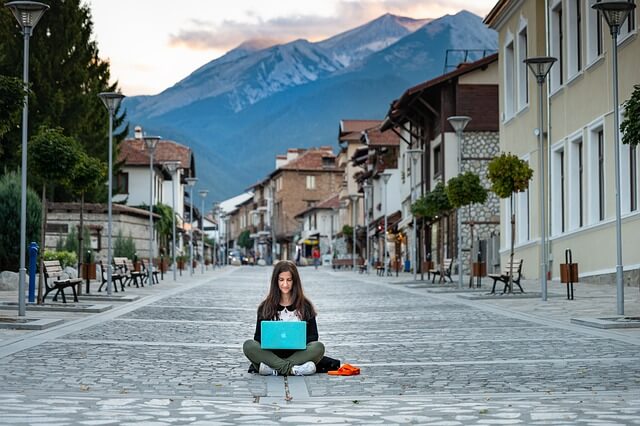 The next step is obviously becoming a freelancer. Freelancing is one of the most common roles for digital nomads who are not working in a company. But before you move towards this, ensure that you are realistic about yourself and your journey. You need to be able to earn for you take up your expenses. Answer these questions to help you figure this out:
What am I good at?
What is it that I like to do?
Is there a need for my skill?
Can I do this job online?
As soon as you get your answer and find a way to make money, you can enter the freelance business and move ahead with your digital nomad business plan. You can also find work/individual projects on Fiverr or Upwork. 
#3 Build your Business
It is important for you to understand that if there is a need for what you are selling, this means that you will need to work on making your business legal. It is important for having the digital nomad business registration done. Select a good name and business entity that you want to register the business as. Select the state in which you want the registration and then move ahead to get it registered. This is important since you cannot run a business that does not have a legal background. And to stay safe, it is always better to get it registered before you hit the road or air.
#4 Join Digital Nomad Community
The next step is to join a community that is dedicated to digital nomads. It is important to go out there and communicate with others that have already begun to live like this. You will learn a lot from them. Their experience can prove to be an invaluable tool.
#5 Plan your Budget
While you venture towards your digital nomad business, you need to ensure that you have a proper budget. Plan your budget and use it as your bible. It would help you in living quite comfortably. For preparing your budget, calculate your living expenses, traveling expenses, staying there, the activities you will do, the cost of working, and how it would affect your savings if you are not able to earn for a while.
#6 Research your Destinations
If you are not living in an RV, it is vital for you to look for an affordable housing system before you reach your destination. Research all about the place so that you can plan about your stay there and how much you will spend there. Ensure that the place has a departmental store and an emergency room or clinic near you. You should also find out to see if the neighborhood is safe to stay in there.
Ready to start a digital nomad business?
As soon as you have all your ducks in the row and you have your plan in place to earn a living as you roam the world, begin your process. But before you do that, remember to register your business in a country. The best place to do it is in the USA. IncParadise can help you with the company registration and incorporation. Obviously, you need a place where all your legal and important mails can reach you. And for this, we would easily help you with the virtual address and mail forwarding services as well.