What marketing strategy have you planned for 2019? Do you know what tactics you would be using to promote your company during the year? What do you plan to achieve by December 2019? In case you feel that planning ahead is only for the large companies, then there is a huge chance that you are either using outdated marketing strategies or you are not marketing your company at all. And this is something that is just not good for any kind of business, which is why we have compiled the top 10 marketing tips for a small business for you to use and get a head start with.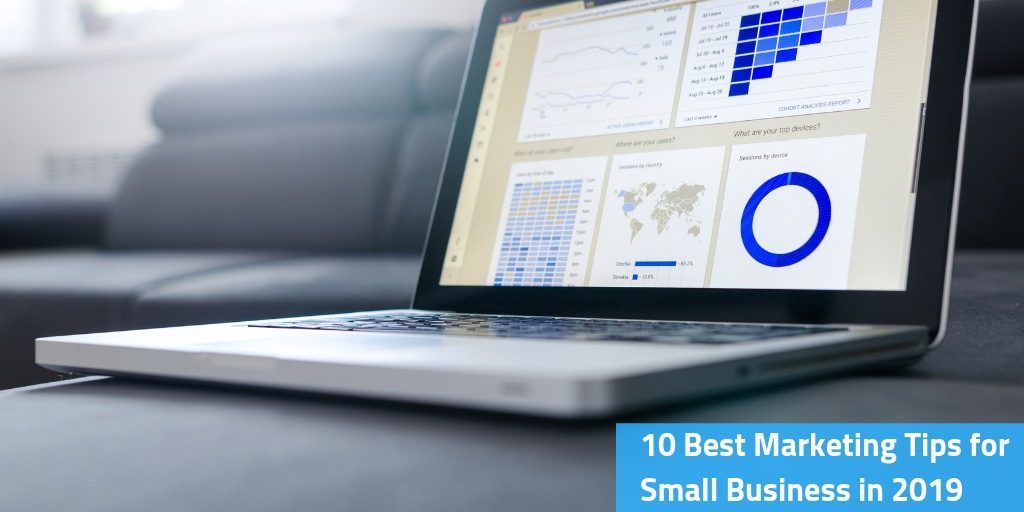 As a matter of fact, small businesses have to come out with the most unique marketing strategies to be ahead of the competition and succeed in the market. Even though the traditional ways of marketing a service or product is still a good option, it is always better to get creative with your ideas. Combine the old ways with new strategies and reach out to a much larger audience.

For instance, a traditional approach which can help you is inviting people to attend an event that would display all the details about your service and products so that you can spread a good word about your business around. but in this, you would not be able to get a lot of customers at such events. And the reason behind this is simple; in today's modern world, people do not have a lot of time to visit such events.

This means that it is better to search for audiences from every place if you want more and more customers to know about your business. In short, use every kind of marketing tactics, both old and new, rather than focusing on using just a few ones. You can take this as the very first one of the marketing tips for your small business.
Have you researched your niche market?
And before we can move ahead with all the main marketing tips for your small business, we are assuming that you have performed some basic research work. Like, you know all about your customers and you have done a good amount of research about your market. In case you have not done it yet, the very first thing that you need to do is research the current conditions in the market of your niche in which you want to sell all your services and products.

Other than that, you would also need to research all about your target audience. After all, your company's objective is to win more potential customers with the marketing plan. Which is why it is better to learn more about the audience you are looking for. Find out all about the financial, social, and educational background of your customer so that you can be prepared to reach them easily and in the right way through your marketing plan.

Moreover, you would also need to know where all your potential customers hang out online so that you can reach them easily. After you have learned about where your potential customers are, you would be using those social channels to connect with the target audience.

Other than this, we also assume that you have a user-friendly and creative website live that shares all about your small business.

Now that we are clear with this, let us move to learn all about the various marketing tips for a small business that you need to know about. In short, let us make 2019 a year that would bring in a lot of sales to the company with the best marketing strategies. And with the right things in place, you would be spending lesser time and money while marketing your business, and more time in focusing on your customers and making a lot of money.

Here are the 10 best marketing tips for your small business that you should know about:
#1 Use Google My Business
One very powerful way of marketing your business is by using Google My Business in your marketing strategy. By putting your business on GMB, your business would get a promotion. In short, the businesses that are hoping to target the local market can easily get it done with this powerful marketing platform. By listing your company on GMB, your company would be visible on the top half of the search page before all the other common search results.

So, it would be better if you work to have your small business at the top of the listings. And in case your marketing team becomes successful in getting your business listing in one of the top 3 listings, you would surely get a huge amount of traffic towards your side. This obviously would bring in a lot of business for your company where you would not have to spend much on the ads.

To make you understand better why this is one of the top marketing tips for a small business, Google My Business is a place that allows you to use all the marketing tools you need for free. The marketing tools include Google Maps profile, Google Reviews, Google Insights, Google Analytics, and even Google+. Basically, GMB is a decent way to make sure that all the potential customers notice your small business easily.

Other than this, you would not have to do a lot of hard work for ranking your company at the top of GMB. All you would have to do is optimize your profile, get some reviews and begin to welcome customers to your business.
#2 Add Google AdWords in Your Marketing Strategy
Google AdWords is quite old but has been one of the most successful tools for marketing. And even though some find it expensive, the results it can offer would give you a lot more benefits than the amount you spent on it. But with this, you need to ensure that you have done your on-page SEO properly so that you can reap the right benefits. Once your website is SEO optimized and your ads are ready, you would begin to get a good amount of leads in your business just with the Google AdWords tool.

Based on the CTR [Click Through Rate] along with the amount of traffic you get from the ads, Google gives your ad a quality score. And if the score you have is higher, the cost of the bid would be reduced. AdWords is a perfect marketing tool that offers you with immediate results. But do not just restrict yourself to use just this tool for marketing your products/services. Combine this with other marketing strategies from the marketing tips for a small business to get the best results.
#3 Take Advantage of Content Marketing
With how things are moving right now in the market, content is called the king in every marketing strategy. In short, if you are hoping to make your business reach audiences, you would have to create the most relevant content that would showcase the value of your business. Moreover, it should also be able to share all about what you do to assist the clients in solving their problems with your services or products.

Once you have created a great content talking about your business, you would then need to distribute it all over the internet on a wide range of channels. This kind of content marketing has always proven to be one of the most brilliant ways to drive traffic towards your business website from various different sources. In short, it is one of the most important marketing tips for a small business to follow if you want to be successful in getting clients easily.


Moreover, do not think about avoiding the use of content in your marketing strategy. This is because content marketing is what helps you in the sustainably growing of customers and visitors in your business in the long run. However, you must ensure that you produce quality content for all the topics that are relevant to your business. And the content that you create should be SEO optimized and have high readability.

While you are working on the content for your business, do not forget to give some of your attention to the podcasts, online courses, videos, infographics, and all the other forms of content. To be clear, content marketing is not just about creating huge posts. It is more about touching the hearts of many readers and convincing them that your business is worth their time and money.
#4 Design Facebook Ads
Another one of the great marketing tips for a small business is to use Facebook advertising as a part of the marketing strategy. In short, it is a highly effective strategy that any small business can benefit from. As a matter of fact, Facebook advertising is not expensive and it allows you to reach out to anyone and everyone easily.

But that is not all; you are also allowed to target specific customers with your Facebook ads based on their sex, age, online behavior, location, etc. And then the ad would be shown only to the targeted audience in the top of their home pages. This is also why this should be at the top of your marketing strategy.

Moreover, you do not need to be a professional to use this platform for your business marketing needs. All you need to know for this is how to create catchy headlines, and adding a good description, a link to the ad and an image that would get people to click on the link to your business website. In short, you need to have the power to persuade people. Or you can hire someone to do that for you.

Furthermore, the Facebook Ads Manager would help you in creating the ads, testing them, and edit them to see which ad formula would get the attention of the audience.
#5 Develop a Partnership With Other Brands
It is always a better idea for small businesses to collaborate with other businesses as it is a great way to market all about your services and products using the help of other companies. Obviously, you cannot take the help of a company that is offering the same thing as you are. But you can connect with the companies around that you feel can help you without losing anything; you can also meet companies where you can help each other grow.

For instance, let us say that you are a beauty therapist. You can then contact a hair stylist with a proposal of offering the person's clients with a discount coupon or a free manicure. Through this, you would be able to advertise your business without spending much and amidst the ready-made clients of another company.
#6 Utilize Social Media
Most of the target customers are available on various social media sites. As a matter of fact, most of the people utilize social media for any customer support that they need. Due to this, your small business should have a presence on the various social media platforms that are used by the crowd a lot like Facebook, Instagram, and Twitter.

Ensure that you give enough time and effort to grow your social media audience. A lot of clever marketing professionals spend their time and money in building a great social media presence. With this, it is understood how important it is for you to do the same.

So, this year, spend your time to search for the platforms where your audience would be there mostly. Once you find out which place where you need to increase your company's presence, being to work on special marketing plans to target these channels then.
#7 Use Coupon Deal Sites
Coupon deal sites are one place where the entire world comes to. In short, you can get a huge amount of customer just from putting up deals on one of the coupon platforms. There are a lot of marketing opportunities that you can use from these websites. One such place you can explore is Groupon. It is also normal to find MNCs offering limited-time-discounts on these websites.

You would easily be able to target the local audience and advertise your company here. With this option from the many marketing tips for small business, your brand awareness would multifold and you would find customers searching a lot for your business online.

However, it should be noted that you should not focus on using the coupon deals to earn profit and sales. In short, you should use this to create awareness of your small company as it is the easiest way that would help you grow further then.
#8 Direct Mail Marketing
A conventional way of marketing a business, the direct mail marketing is still one of the best marketing tips for any small business. A lot of companies still use this method to create awareness of their company in their locality. Moreover, since the content online is a lot these days, many people still hope to be engaged with a business in a different and traditional way.

But for this to work for you, you would have to spend a lot of efforts in making the direct mail attractive so that you can gain the attention of the recipients. Begin with creating an eye-catching envelope design that looks bulky. This would make the audience curiously open to check what is in it. You can also spend the time to use various tricks like making the envelopes out of different shapes. Other than that, make the envelope lumpy and use exciting colors that would grab the attention of who gets it.

Also, ensure that the letter that goes inside the envelope has content that is persuasive and compelling so that people get the urge to purchase what you are offering in your company. Right from the headline of the letter to the main body, all that you add should be able to share the message that you want the readers to understand.

Furthermore, the content should not be so long as the audience would not spend too long on the letter. In short, it should be understandable quickly. These letter are then posted out the audience around your locality to allow them to learn all about your business.
#9 Email Marketing
Other than the traditional mail marketing tactic, email marketing is also a great marketing strategy that should be a part of your place. This is considered as one of the most important marketing tips for any small business just like social media marketing is. Through email marketing, you can convince the audience about the usefulness of your service or product.

It is normal for people to always look for more information and convincing before they can make a purchase decision. And if you have taken the pains to gather all the email addresses, they expect you to give them something that is worth their time. Basically, you can give away freebies like a free ebook download. Or you can also offer them with things like a coupon, a webinar ticket or even just a free service trial. Anything that you feel you can offer that would get them to learn more about you can be offered on the email.

As a matter of fact, when you have some subscribe for something free, you have one more connection that you have to work to convert into a lead. And the sale is created with the help of our email.

#10 Advertise In Print Media
Though it is an old marketing method, is it still one of the best ones. There are many people who still read newspapers and magazines now too. In fact, all the top brand newspapers and magazines are delivered to people daily based on their subscription. And both the educated and uneducated individuals still rely mostly on these papers to get the news from.

So, if you decide to put up an advertisement for your company in a newspaper, you would be able to catch the attention of many people who rely completely on the printed media. A lot of retail customers usually make their decision based on the ads from the newspaper. Additionally, the pricing of having an ad in the newspaper is not a lot. So, it would not be heavy on the pocket of your company. Just ensure that you combine the print media with online marketing and do not just use one of these marketing tips for your small business.
So, there you go!
Ten marketing tips for your small business to get you started with your marketing campaigns on the right foot. In short, these marketing tips would help you promote your service or products amidst your target audience in the best possible way. But to make this happen, you would have to give this time and money so that you can easily reap the benefits from it.

In case you have not yet started your business and are looking for some help to incorporate your business in the USA, IncParadise can assist you with it. Contact us to know more about our services & to register your business today!