Society's problems cannot be solved only by government and nonprofit organizations. A benefit corporation is a unique class of cooperation with a twofold goal of making a profit for the shareholders and furthering socially beneficial practices, which include environmental protection, employee welfare, or a variety of other social welfare initiatives.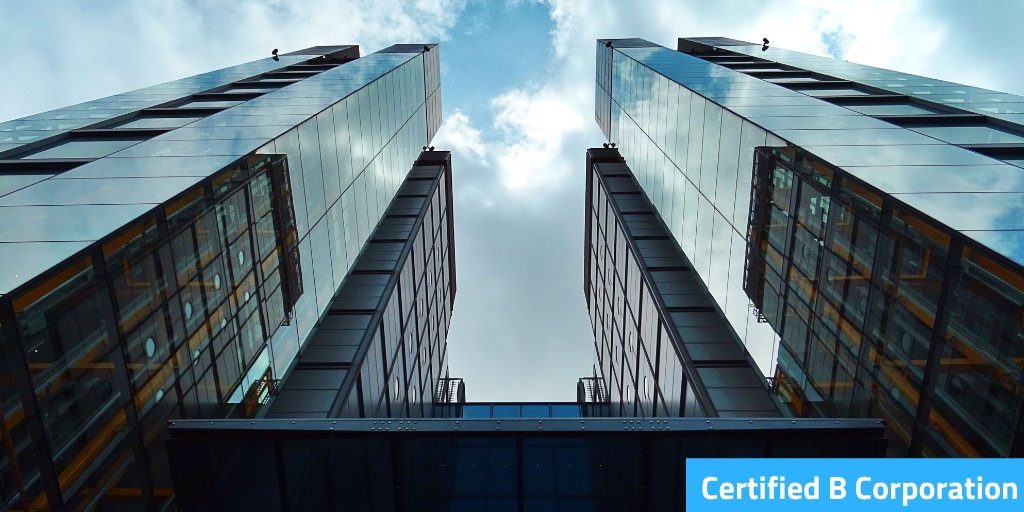 A global culture shift is accelerated by B corps to redefine success in business and develop a sustainable economy. This B Corporation community works on the creation of high-quality jobs, lower poverty levels, healthier environment, and stronger communities. Though controlling the power of business, B Corporation uses the interests in order to create a real impact for the betterment of the employees, communities, and the environment.
Basically, the formation of a B Corp aims the development of a community that uses business as a force for delivering the good. A benefit corporation still has a profit-making goal, but it also has a broader purpose to make a material positive impact on society and the environment.
The Benefit Corporation originates out of the B Corp movement. It began because many business-people felt that the B Corp certification could not provide the kind of legal protection that a government recognized legal form could provide. Unlike a B Corp, which can be any for-profit legal entity, a Benefit Corporation is a type of corporation.
The Benefit Corporation was created to build the B Corp mission into the DNA of the corporation. The first benefit corporation law was established in Maryland in 2010. Now more than 30 cities allow them. A benefit corporation is best suited to a critical social or environmental mission but also wants to generate profits. The structure of Benefit Corporation is the same as that of traditional architecture with a board of directors, officers, shareholders, etc.
The managers run the business still; shareholders can hold them liable by several means for the decision they make. The only and significant difference between conventional and a benefit corporation is its purpose. The purpose of a traditional corporation is to make earnings for the stockholders; the company's financial performance judges them.
They may have to encounter stockholder's lawsuits in case of any act in disregard of laws or promises. Managers must work to achieve this purpose, and therefore, they have the flexibility to make decisions that balance profits with social causes and environmental responsibility.
What is B lab?
B lab certifies B Corporation. It approves an organization by measuring a company's performance against strict standards. B lab allows a variety of support, ranging from access to the Certified B Corp logo to introducing new Certified B companies to a large community of other Certified B Corporations.
B lab grants different types of certifications. Different types of companies require different types of certification. The main four categories are Start-ups, Multinationals, and public companies, Companies with related entities, International accreditation.
B lab considers five primary conditions to establish a certified Corporation. They are:
Accountability: Company's managers who have the right to take all the decisions are responsible for the company's impact on all shareholders.
Transparency: There should be glassiness in a B corporation. Every B Corporation should publish a public report of its social and environmental performance. A neutral, third-party standard assesses this report.
Availability: Any business can become a certified B corporation, no matter what the class of the company is.
Cost: Certificate cost varies according to the revenues.
Performance: Performance is an essential aspect for the growth of any business. A corporation must attain a minimum score on the B Impact Assessment test & re-certify every two years.

B Corporation Advantages
A benefit corporation has advantages for every collaborator in your business, from consumers to shareholders and directors. Forming a B corporation typically provides several advantages:
Differentiation. Every business boosts up when they offer something different from a conventional businessman. By delivering unique social benefits, a B corporation can stand out among competitors.
Reduced director liability: Benefit corporation status provides legal protection to balance financial and non-financial interests when making decisions—even in a sale scenario or as a publicly-traded company.
Adds reputation: B Corporation adds character for leadership. As a benefit corporation, your business joins other highly respected companies and be the fore of a growing movement.
Attracts the right investors: Benefits Corporation helps you increase access to private investment funds. It makes your organization more engaging. Also, it attracts more investors due to increased legal protection, accountability, and transparency. Benefit corporations also speed up investor due diligence since they produce an annual benefit report, which describes their qualitative activities aimed at providing a general public benefit.
Increases stockholder rights: Funding in a benefit corporation assures the lender that they hold a company responsible for its mission in the future, which could aid companies in attracting impact investment capital.
Attracts the talent: Today's younger generation wants to work with meaning. Benefit corporation gives millennials the perspective that a company is committed to its mission.
Flexibility: Benefit Corporation allows Business-people, and investors can pursue social goals as well as a healthy bottom line.
More engaging: Benefit Corporation creates an attractive investment opportunity for the same conscious buyers that have fueled organics, fair trade, and buy local movements while enjoying a form of injection from the short-termism that plagues public equity markets.
Societal Impact: The main aim of B corporation is the development of a community. B Corps offer a positive vision of how to do business in a better way by improving life in their communities.
Shared beliefs: The non-profit group that holds benefit corporations and B Corps accountable shared our view that businesses should exist to do more than just turn a profit — believed that companies should be used as a force for social good.
Benefit Corporation vs B Corp.
Benefit corporations and Certified B Corporations (B Crop) are both leaders of a global movement to use business as a force for good. Now the prominent question rises, Are Benefit corporation and b corp same? The answer is No, although they are often used interchangeably, a benefit corporation and a "B Corp" are distinctly different.
The benefit corporation is a for-profit company that legally sets a company's societal and environmental mission as a core business objective. They are expected to create a measurable positive impact on society and the environment. The benefit corporation is a legal structure for a business.
Benefit corporations are lawfully empowered to pursue positive stakeholder impact alongside profit. Some companies are both Certified B Corporations and benefit corporations, and the benefit corporation structure fulfills the legal accountability requirement of B Corp Certification. On a broader level, the following aspects must be considered:
Accountability: In benefit corporations, the managers are obligated to consider the impact on all stakeholders.
Availability: It is available for corporations only in 30 U.S. states and D.C.
Performance: The performance if the benefit corporation is Self-reported.
Transparency: Must issue a public report of overall social and environmental performance assessed against a third-party standard.
Role of B Lab: The benefit corporation develops Model Legislation, works for its passage and use, offers free reporting tool to meet transparency requirements.
On the other hand, the B Corp Certification is a third-party certification managed by the non-profit B Lab, based in part on a company's verified performance on the B Impact Assessment. B corp helps the company in differential by offering unique social benefits, flexibility, protection as it provides tax benefits, competitiveness. On a broader level, the following aspects must be considered:
Accountability: In B corp also, directors required to consider the impact on all stakeholders.
Transparency: Must issue a public report of overall social and environmental performance assessed against a third-party standard the same as that in Benefit Corporation.
Performance: In B corp must achieve a minimum verified score on B Impact assessment and re-certification required every three years against evolving standard.
Availability: It is available to every business regardless of corporate structure, state, or country of incorporation.
Cost: B Lab certification fees from $500 to $50,000/year, based on revenues.
Role of B Lab: Its Certifying body and supporting 501c3, providing access to Certified B Corporation logo, portfolio of services, and vibrant community of practice among B Corps.
Forming a benefit corporation
Electing a B corporation enables a company to align business success and profits with social values. When choosing a business structure, B Corporation differentiates a business from the competition by promoting social good, which is attractive to many consumers, employees, and capital investors from both the for-profit and non-profit worlds.
How do you form a benefit corporation?
There are two ways to form a benefit corporation. First, to build a benefit corporation, one has to register the company as a benefit corporation. A certificate of incorporation should be filed with the state, and the necessary payment is to be done. The process of converting an existing corporation into a B corporation is different for each state.
Currently, more than 30 states permit the formation of benefit corporations. Also, many other states are considering Benefit corporation statutes, so assume the list to grow in the coming years. To convert a benefit Corporation Few steps are to be kept in mind.

How does B corporation become certified?
To certify as a B Corporation goes beyond the product or service-level certification. B Corp Certification is the only certification that measures a company's entire social and environmental performance. This certification indicates that a company meets the uncompromising standards of social and environmental performance, accountability, and transparency.
The B Impact Assessment evaluates how your company's operations and business model impact your workers, community, environment, and customers. From your supply chain and input materials to your charitable giving and employee benefits, B Corp Certification proves your business is meeting the highest standards of verified performance.
To get your B Corporation to be certified, you must undergo a dual process. The first one includes a certification by B-Lab, a non -profit organization. The certification process includes:
Taking an impact assessment and receiving a minimum score of 80 out of 100.
Agreeing to make specific legal changes to your corporation's articles of incorporation.
Paying an annual licensing fee to B-lab.
The second is to Change to corporate structure. You must satisfy state requirements for B corporations, receive board and shareholder approvals, and file amended articles with your state. The certified mark is, according to the New York Times, which is a sign that the company is committed to meeting standards that go beyond financial standards.
Key benefit of forming a B corporation
There are ample amount of advantages of developing a B corporation. One of the significant benefits include is the contribution of some percentage of annual net revenue to the planet by producing the best products, causing no unnecessary harm, and sharing best practices with other companies.
One network by being associated with other high-profile and highly appreciated companies. A company can also attract the right investors through this networking and hence, which in turn serves the company. A Benefit Corporation is a for-profit corporation, but in addition to creating value for its shareholders, it has three additional legal attributes:
Accountability,
Transparency, and
Purpose.
How IncParadise can assist you?
Well, IncParadise can guide you with making the right choice of registering your company as a Benefit Corporation. All you need to do is contact us right away. Also, we offer help for registration and incorporation of a company in the USA.