Nowadays, small business owners are striving to remain profitable in tough economic times. A report presented by Business Insider says that around 82% of small business quits in the initial years of their business due to poor cash flow.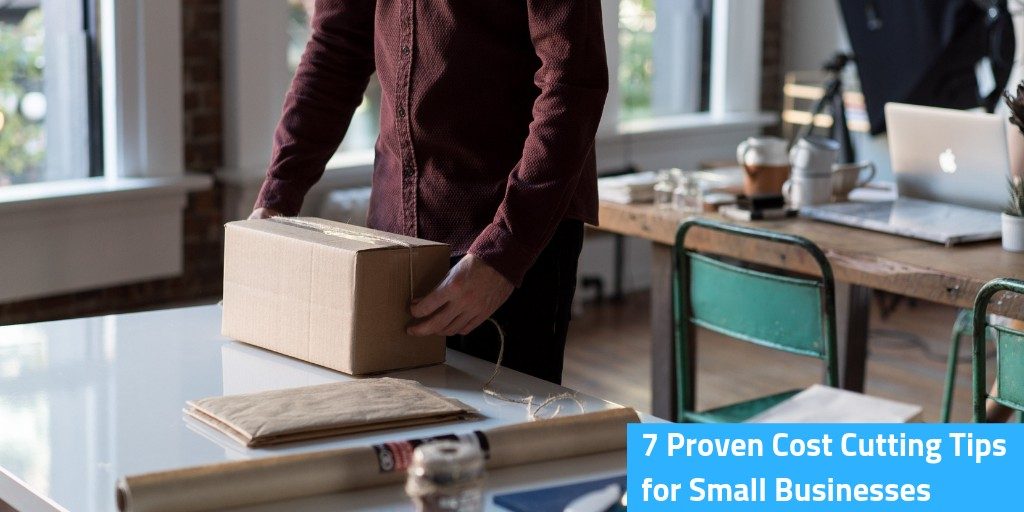 Therefore, fiscal management is an art that is to be mastered by all the small business entrepreneurs to survive in the marketplace. Although it is tricky, the fundamental key to financial management is to manage the necessary expenses.

Moreover, there is no denying the fact that by cutting business costs, you can successfully increase the profitability of your business. So, here are 7 top-tips that would help in cost-cutting for small businesses efficiently.

1) Set a Budget

Money management is the only strategy to survive the cut-throat competition. Therefore, the first tip, we would like to put forth is setting your budget from the beginning of your startup checklist.

At times, you may have to spend more than an average for out of the blue plans. It may be a personal holiday trip, or a business meeting ( that requires traveling) or any other enticing reasons.

You should always be prepared for such expenses. Therefore, setting a budget ahead of time will help you to hit the ground running. Moreover, you should always review your budget consistently, either quarterly or annually, to have a check on ROI (return on investment).

2) Compare Competitors Prices

If you want to buy supplies for your small business, hire a consultant, or about to purchase a piece of equipment, then you have to play smart. As a small business owner, it becomes very critical that you compare its prices between competitors.

Comparing quotes and invoices helps in cost-cutting for small business since you could be able to pay a reasonable price for any product/service. Maybe you could encounter a company that offers considerable discounts down the road.


3) Learn To Bargain

Negotiating is a powerful tool that helps in cost-cutting for a small business. As an owner, you should master this art, and you could get the fair prices for all the services you are receiving. Let us say that you do not want to change your service provider and do have an excellent long-term work relationship with them. However, they may charge a lot of money for their services.

Therefore, without going through the hassle of switching your service provider, you can utilize the tool of negotiation in your favor. There are several cables, internet, and other telephone service providers that are ready to negotiate a better rate if you are not happy with the current plan. All you need to do is – ask for a loyal customer discount, supplementary services for your current cost, or a tiny monthly reduction.

4) Buy Used Products

If you are about to launch a startup or have just launched one, you also might have very less capital in your hand. And now, you might be worried about buying office essentials for less money. Well, if you are already anticipating ways that are cost-cutting for small business, you would find this tip very useful for you.

You can buy used items or secondhand items required in setting up your small business. It will not only fulfill your necessity but also saves your valuable money. Now you no longer need to pay hefty amounts for new office supplies like the table, chairs, file cabinets, industrial size printers, other electronic items and much more.

Go and explore the market space that deals with the used goods & office supplies. Compare the price of targeted items/products you want to buy with the original price of the new products. If you find an exceptional difference between both the prices, then grab that item.

Do not worry about the design & style of such items since these remain evergreen round the year. Always make sure that while buying second hand stuff for your company, the items should comply with all the rules & regulations of the industry. This tip is not only cost-cutting for small business but also helps the environment & reduces waste. So, why don't you go green today?

5) Hire Freelancers

If you do not have enough bandwidth or budget to hire a full-time employee, you can hire freelancers. Either for a long term or a short term project, hiring freelancers is considered as the best tool for cost-cutting for small business.

Whether you require marketing, content writing, or web designing for your small business, you could simply outsource it. The best part about freelancing such tasks is that you do not need to provide the benefits often offered to full-time personnel.

However, you cannot depend upon the independent contractors much as they usually work for multiple companies. Moreover, they work on their own terms and may not dedicate as much time as you want. Therefore, hunt someone reliable & trustworthy, so that your deadlines should be met on timely.

6) Barter With Your Network/Community

If you are still looking for the tips that could fall under the category of cost-cutting for small business, you will find it very lucrative. In fact, bartering is a great skill to develop.


As an example, if you are a restaurant owner and you require salon services. You could offer free meal coupons in exchange for a hair cut or salon services. And it is the best way to build relationships in the local area.

7) Use Social Media Platforms

To stay ahead of the competition, you have to play smart and enhance your marketing skills. But, being a small business owner, you might be looking for an alternative to reach your potential customers for less money. And social media marketing is the answer to all your questions.

SMM is a crucial and budget-friendly tool that helps in cost-cutting for small business. There is no denying to the fact that you have to advertise effectively to reach your potential customers. And social media platforms provide an excellent opportunity to take your business to another level and almost free of any charges.

The most prominent social media marketing tools are Instagram, Twitter, Facebook, and Pinterest. It helps in increasing your online business presence and attracting new potential customers.

Take Away

Now that you might realize that as an independently owned and operated company, you must take some steps to reduce expenses for your business. And by following the tips as mentioned above that are weighted as cost-cutting for small business, you can save the most valuable assets – time and money and enhance the profitability of your business.

How May IncParadise Help You?

If you are just about to launch your small business, then you might be wondering about the next step – registration & incorporation of your new startup. It is a very crucial step to put a strong foundation for your new business and to increase its credibility.

So, if you are also worried to make the process right and to seek professional help, you could head toward IncParadise. We have all the expertise to process the registration and incorporation of your business.

We always value your time & money!