You have set your business in the cut-throat competition of the business world, but you don't have buyers. So, in short, you are hunting for the tips or maybe practices that you can imbibe in your daily regime. If you don't have any buyers or purchasers, then trust us, you are not actually running a business.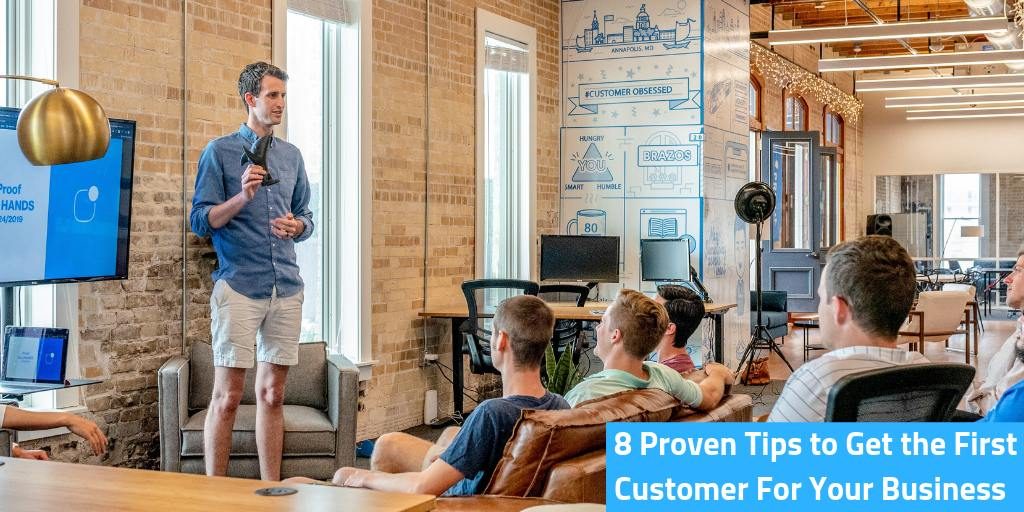 Several people spend their time and money in building their website or designing their logo, and no time actually seeking prospects. No doubt, logos, and websites are a pertinent part of the business to represent yourself professionally. But in the starting period of the business, it is more important just to get customers!

Therefore, just stop stalling, stop planning, and start selling your products and services.

Let's dive into the article to look for the tips for getting the very first customer for your business.

8 Proven Tips to Get the First Customer For Your Business

Here are eight proven strategies to land your first ten customers.
Use Every Existing Relationship of your Company
The first and foremost tip for getting the very first customer to your business is to use every existing relationship of your business entity. It's really hard to make relationships with new clients in the starting period of the business.

In order to sell new innovative products and services, you need to make cold calls and trust me; this is not a cup of tea for everyone. Therefore, to lure ample customers toward your business, you need to be optimistic, determined, and most importantly, be self-restraint.

You can also follow the mantra of successful entrepreneurs for getting first customers to your business. Like, you can meet with people whom you have some connections, no matter how slight. You can also prepare a list of people whom you know whether they are doing 9 to 5 jobs or running a successful business.

While creating a list, most of the people came up with a maximum of ten to twenty friends. But you don't need to stop over there, start meeting new people, making new connections by attending business community and asked people to introduce yourself to five business owners. With this tip, you can definitely gain more customers for your business so that you can increase your revenue.
Accentuate the Positive
Did you remember that situation, when you had a word with any potential customer to attract them towards your business? If so, you must also not forget their question while interacting with them, like- "How long have you been in the business?" and "How many other customers do you have?"

Can you recall your replies to them? Well, several business owners failed to reply positively and end up into a bigger problem. So, in order to avoid that situation, you need to answer them by accentuating the positive: "How many other customers do you have?"


And always try to bring the level of consistency and format of your business in the same quality service that you were offering to the first client a much lower rate to make more stronger bond among users.

Create Partnerships for Credibility
The next tip for getting the first customer for your business is to create partnerships for credibility, when you don't have any credibility to increasing the awareness of your brand among customers, then how you could land customers toward your business.
Therefore, use the credibility of an existing, trusted company to score your first customers. For this act, you can seek a group or a person that your target customers trust. They could be someone who already provides them the services or just a person with renown.

To attract potential partners, you can offer a percentage of certain kinds of revenue to them, or you can also have a sponsorship agreement. What's more, you can also provide them a chance to be a customer for a discounted rate in exchange for a public endorsement.

Stalk Customers
While launching the business, you will definitely come across in that situation, when you will feel like some potential customers are out of your reach. But once you make them convince enough to buy their products, they will become incredibly early adopters.

In order to tackle this specific situation, it would be better for you to stalk your customers, like "Stalk and Awe" campaign. We are saying you have to stalk them in an unwanted or in a literally obsessive intrusion on someone's personal space that can lead to arrest.

In fact, you could find anyone who might have a connection to the person you want to meet and then ask them for an introductory email or a warmup call. What's more, you should also get more recommendations for the person, whom you think, he/she harder to reach as your customer.

After getting recommendations, send a letter of introduction and follow up with a call. If you are successful in getting a meeting, then now is perfect to awe this person. Do proper research work on potential problems in his or her business. And if you can bring enough value to the table, then the person will be a lot more interested in you and your company.

Handle Twitter for Market Research
As a matter of fact, we all are living in a technological world. Due to the rapid development of technology, especially while shopping, people always prefer to read reviews about the products online before buying anything new from the marketplace.

An excellent way to getting potential customers for your business is to make them convince by showing your best services and products. For this purpose, you need to do proper research about those people who are experiencing the pain that you want to solve. And social networks like Twitter are an easy way to do this.

Let's suppose, you are hunting for the way in order to encounter with salesforce. Then you might search for something like "Salesforce is complicated" on Twitter and from that search, you will get a couple of comments that come up:

If you want to contact those users directly, then you can easily ask them to chat more about why you think Salesforce is complicated so that you understand how to make your product better. In this way, you can get a problem with reasonable solutions. Well, you can also use other online forms for this act.

Like if you will write "Salesforce is too complicated" in Google, you will get a plethora of blog posts, articles, and press releases on which users discuss why it's hard to use. From there, you could also get a better sense of the problems that your product will need to solve and the features that will have to come with it.

Incorporate Video Content
The next idea on the list for getting your first customer is to incorporate video content about your services and products on various social media platforms. It is the best way to promote your brand and facilitate customer acquisition.

When you are thinking about multimedia marketing, then it will be better to prepare video content. But while developing the content for the video, you need to make sure that it is quite interesting and adding value to your potential customers significantly.

And suppose if you have a hard time to maintain a good balance between exciting and valuable content in the video, then you can choose the other path. For instance,- you can develop a video that will be solely entertaining to your users.

Obviously, you can't develop each and every part of the content interesting, so you can choose the mid-path so that you can keep your customer acquisition rates optimal.

Once you are done with the development of videos, you can post it on your website, and also post the links to the videos on your social media platforms. With this way, you can also target users who are following you on various social media websites to figure out your videos and end up exploring your entire website out of interest. Because the more you strive to connect all your online platforms with your business details, the better off you will be.

Become an Expert
If you don't have any track record of happy customers, then the next best thing that you need to do is to become experts in your chosen domain. When you can get the trust of your customers on your business as a knowledgeable resource for them in their particular complaint sections, then they will definitely buy things from you. In the business world, you can't fake anything.


What's more, you can also try to write a white paper and email it to target clients. Like putting together a  "lunch and learn" seminar and invite customer prospects to learn about your subject area. In order to find the very first customer toward your business, you need to create the urge to spend all your effective communications trying to sell your company. The first customers will breathe life into your startup.  

Produce Quality Content Regularly
And last but not least, tip for getting the very first customer to your business is to produce quality content regularly on your business website. A great customer acquisition strategy is to establish yourself as a trustworthy expert in your industry or niche. If you want to lure more customers toward your business, you need to produce quality content regularly.

In fact, with the sphere of technology, you can post your content in various ways. Some outlets include social media websites, blogs, and even the tried-and-true method of email newsletters. Moreover, white papers are another great way to build your brand as trustworthy, especially if you happen to be in a more technical niche or industry.

Ready to get the very first customer for your business?

Getting your first client in this competitive business world is seriously no less than magic, even though it is challenging. But if you know the exact way and path where you can get customers for your business, you can easily understand what you need to do and how you are going to do the things.

Some people opine that you should wear all hats to make yourself an expert in the marketplace. Well, this is not like that. You don't have to use all the techniques necessary, instead, you should choose one marketing technique at a time – the one that you think will work for your startup and will easily integrate with your marketing and business strategy.

If you need some help while incorporating or registering your business in the United States, then let IncParadise help you. We will help you to sail your business from every storm while setting up the business, whether it is about collecting proper documents for registering your business or ways to attract customers. Let us help you to set a dream project for your business!