As IncParadise grows older and better in helping entrepreneurs by making their business journey smooth, Tomas Milar, the CEO of the company has decided to make things much more smoother for all the clients. After sitting on the head and insisting that they work longer hours, IncParadise is finally proud to say that the new Client Back Office System for IncParadise has been created and launched.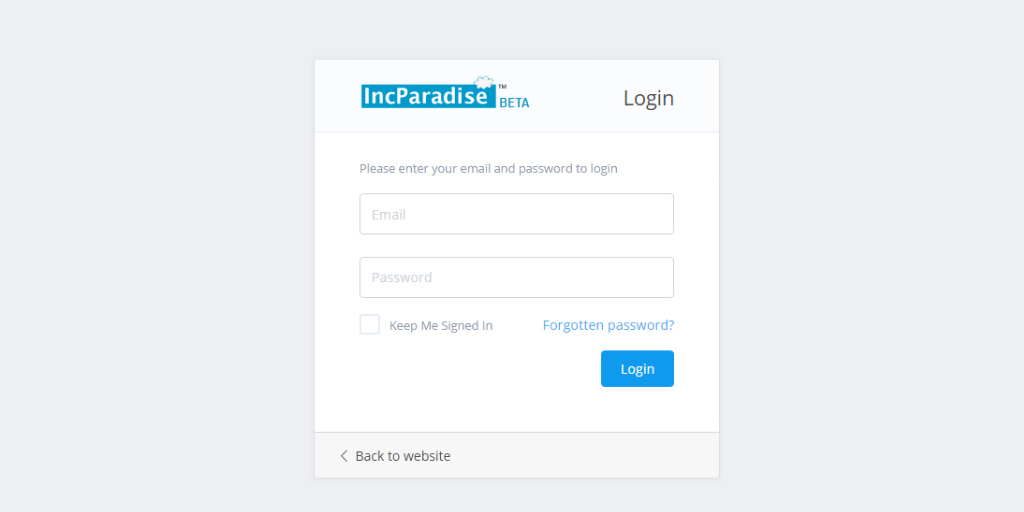 With the employees working on multiple companies and handling different things, it was nearly impossible for them to beat the time. But thanks to all the support that the CEO gave them and the love from the client, every entrepreneur can now enjoy many new features that have been added to the IncParadise New Client Back Office System. The features are outrightly great and would leave you satisfied with our output.
New to IncParadise?

Well, that is not an issue. IncParadise is a company in the USA that offers incorporation and other company formation related services. Launched as EastBiz.com in 1999 as a software business, the company was converted into a corporation service company in 2001. In 2017, Tomas Milar acquired the company and took the company to a whole new level making the entire process of company formation efficient and easier. The company has its branches in other locations that offers the same services all over the USA.

In short, IncParadise is a registered agent in all 50 states in the United States. Since 2017, IncParadise has grown to become a favorite service provider for many entrepreneurs. Tomas Milar, who is the CEO and runs the company, is a seasoned expert in administration, corporate governance and company formation. His skills has helped the company grow to become one of the most successful corporate service provider in the US. Many clients look up to him for inspiration and guidance towards creating the best out of their dream business idea.

IncParadise has grown with the vision to help clients enjoy the process of their company formation. The team works towards serving their client with better services every day.
The main services that IncParadise offers include:

Incorporating in any State
Mail Forwarding
Virtual Office
Incparadise New Client Back Office System
Now that you have a little idea about what IncParadise is and what it has to offer, let us get back to the new update to the IncParadise new client system and its dashboard.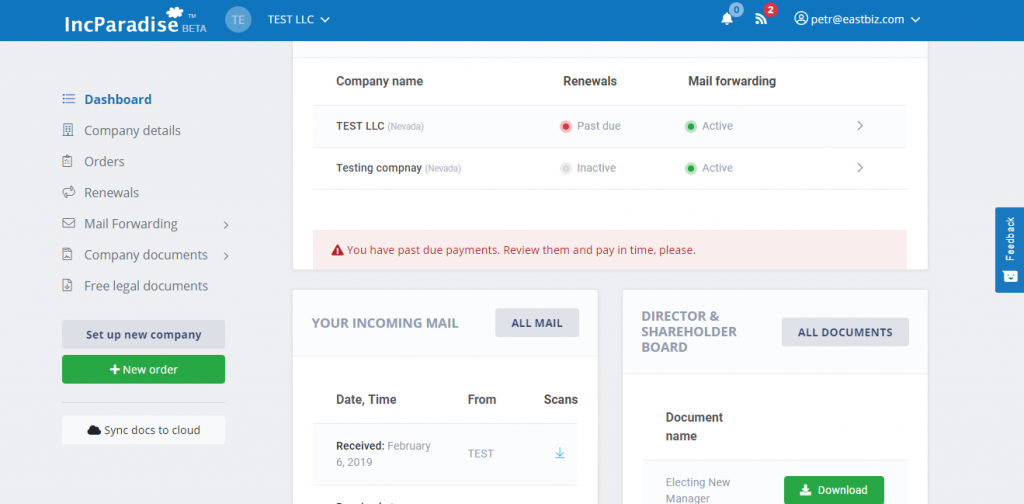 Here is a list of the improvements that IncParadise has incorporated into the New Client Back Office System for the clients to manage everything in a much more smoother way:

All the companies of a client would be placed on one web page now. This means that if you have many companies that have been incorporated through IncParadise, you would not have to go through many web pages to have all your services taken care of for each of your company.
The option box for Mail Forwarding is now available on the new dashboard. This means that you would not have to spend time by going through many subpages. On the new dashboard, you would have all the incoming mails in one place.
An Additional Feature: You would also be able to add funds to the mail forwarding account that you have at any time you want. Moreover, Inc Paradise would also take the responsibility to leave a notification in your email as soon as the deposit funds drop below the limit.
The New Client Back Office System Application of IncParadise has the feature that would allow you to place any new orders for the services that you need for your company. In short, you would not have to go to the public form to place the order. All can now be done directly and easily from the application saving you a lot more time.
The IncParadise New Client Back Office System Application has an advanced and easy-to-use user interface.
IncParadise has also added a new version of cloud services for the Google Drive and DropBox.
The new application of IncParadise also has a much more advanced privacy and security protection system as compared to the previous system.
The Back Office system allows you to easily store and manage the company documents in a much more improved manner.
You would be able to open and use the IncParadise dashboard application on your mobile and web easily. In short, it is now a mobile-friendly application and not just a web application.
Service Expiry Notifications: The new Inc Paradise client system would help the users by notifying them about any service that expires or even about any other company filing deadlines that need to be heeded soon.
For those who are already using IncParadise services, you can now easily incorporate a new company via the IncParadise Back Office system. The company can be made up of anything and can be incorporated in any of the 50 US states.
You would keep getting pop-ups regarding your dues, if any, for the mail forwarding renewal, annual list, company renewal and so on. It would help you to always prepare yourself before time to pay for any renewals.
Eqvista – Another company that has been launched by Tomas Milar, Eqvista is a FREE cap table application where you can issue and manage your shares online without any trouble. You can easily access this application through the dashboard on IncParadise as soon as you have your company incorporated. The application would allow you to issue Convertible Notes, Options, Warrants, SAFEs & KISS easily to anyone while you keep tabs on everything happening to your ownership in your company.

Connect With IncParadise
With all the improvements, you can now easily login to https://account.incparadise.net with your account details to enjoy the benefits of the IncParadise New Client Back Office System.

For those who are new, you can connect with us to have your company incorporated within a short period so that you too can get the best out of our services. Contact us today to have your company incorporated and registered!