A lot of you might have already felt the inclination towards remote workers in the business world. Many people from your network might be working from home now or from anywhere they find comfortable. As compared to the old days, people are now able to work from their home easily. This is also why many businesses are looking for hiring a remote employee to work for them.
The idea of keeping remote working employees is considered as a "game-changer" by many of the company founders and leaders due to the fact that it is highly a cost-saving method. Moreover, it allows a company to easily choose the best talent from all over the globe. For those employees who know about this and work like this have less stress, enjoy a much better life/work balance, and have more time for exercise, hobbies and loved ones.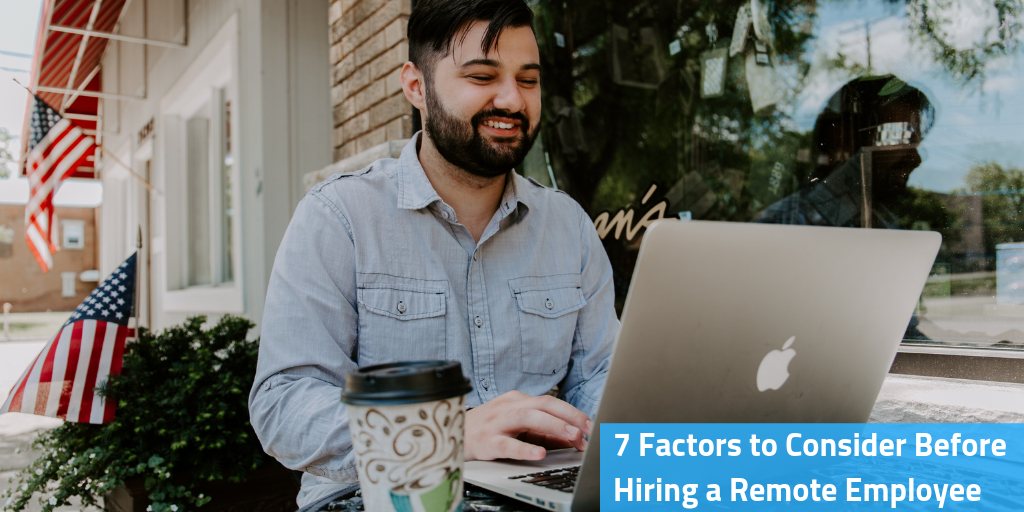 And if all these things are not able to convince you to move ahead towards hiring a remote employee, then you should note the following predictions that have been made for 2019 regarding those who work remotely.
A lot of companies would transform their environment into a remote-only one.
Due to this, a lot of experts and consultants would come up to support the remote workers.
Roles that are location independent would grow in many rural areas.
People would take up remote work after retirement as a regular worker.
Individuals and organizations would double the engagement measures.
With all these predictions, hiring the remote employee that is right for your company is also something that has to be taken care of. Since you would not want to have a person who doesn't do the work well even after hiring them to work remotely. It would turn out to be highly catastrophic for the company like the huge interruptions in the workflow of the team, lost productivity, and not to mention, the hundreds of dollars that you would spend to re-hire another person.
These tips for hiring a remote employee would help you go on the right path to gather the right team:
#1 Comprehend their "why."
Each remote worker has a different motivation to work, and hence you cannot assume that all of them would give the number of hours that you want them to give for the tasks. Some would need work flexibility so that they can live their normal lives as well, being a parent or a student or even an older person. Or maybe they are doing extra work along with their regular job and would need you to know that they can only give some specific time to your task.
While a person's personal reasons isn't something that should matter a lot if you want to hire them, it is still better for you to understand why do they want the remote work. Also, it is better to know how much time and efforts they can put into the job. This would help you understand the candidate better where you can make a much more informed decision.
#2 Know where to look
Just like people advise the job seekers to not spend a lot of their time on the big-box job search sites, neither should you as the employer do the same thing. To outsource work as you begin hiring a remote employee who is right to work with you, you should look for the job candidates on the specialized website that can give you the right person. You should also take advantage of social media and platforms like LinkedIn so that you can easily get in touch with some high-quality remote job candidates.
7 Factors to Consider Before Hiring a Remote Employee
Click To Tweet
#3 Be highly flexible
Even though a few remote companies function as a Results Only Work Environment (R.O.W.E.), a few companies still feel that the old-fashioned 9 to 5 jobs is something better. But if you are person who wants to hire a great talent who works remotely, then, it is important for you to give up the traditional workplace mentality.
This means that you would have to be open with offering them with much more flexibility in their schedules. And the best way to make sure you have your work done well and you get the best new talents from the market, you would have to list your requirements in the flexible work policy of your company. It would assist you in expanding the talent pool so that you can hire the brightest and best out there.
#4 Search for soft skills in the candidate
Let us say that you have a list of 5 top people who appear to be great candidates who have the needed skills, education and know-how to do the job. But are you sure that they are the right ones who can work remotely when you are done hiring them? Unless and until you know the applicants for a past project, the qualifications that they have cannot give you the guarantee that they are great for the remote work.
Hence, it is better to search for soft skills such as tech savvy, time management, and should be a strong communicator. These are very important for being a remote worker. In case the candidate does not have of these skills, it would be better that you look for another person before you begin hiring a remote employee that is not right for the job.
#5 Pick out the perks
As the list of companies that are going remote or that are providing more flexible jobs to their employees, the idea for employees to work from home might not be something exciting that would make the job seeker submit their application to your company. So, what is it that can get a potential applicant to want to work in your company? Well, it is vibrant company culture.

Ensure that you add the mission of your company in the job description, how you are dedicated to charitable causes and also about the company's happy hours. All these would help to attract applicants for your company.
#6 Test them
It is true that the remote job seekers would claim that they are great time managers, but unless you test them you would not be able to find a serious worker for you. You can also end up hiring someone who is not such a good time manager. So, it is always better to give your leading candidates a test to measure how they can handle time and work.
Start by assigning them with a small project that would be let them know the kind of work you would be offering them and that can also show you how they would do it. Also, keep a deadline as per your needs to see if they are able to give the work before then. In case they have technical issues, or do not ask questions about the project when in doubt or if they submit the project very late (not at all), these are the signs that lets you know that they are not a good match.
#7 Put them on probation
Initially, you would want to hire someone and have them begin with the work immediately. But there is a better option; put this person on probation for the first couple of weeks, at least. Don't worry; this is not to make them feel bad. It would help protect you both to understand things better. Let us say that the employee finds the work very challenging or you are not satisfied with the work, you can end the contract at a good note. In short, the probationary period is a much kinder way to mutually agree that it didn't work out.
Conclusion
Using all these tips, you would be able to begin hiring the remote employee who would bring the best output for your company and be a great addition to your team. Hiring a remote employee who has the right talents that you need would do wonders for your business. And if you have not yet started your business and would like to have some help in registering it with the US government, IncParadise can help you. Contact now!