Blog Interview with our CEO – Tomas Milar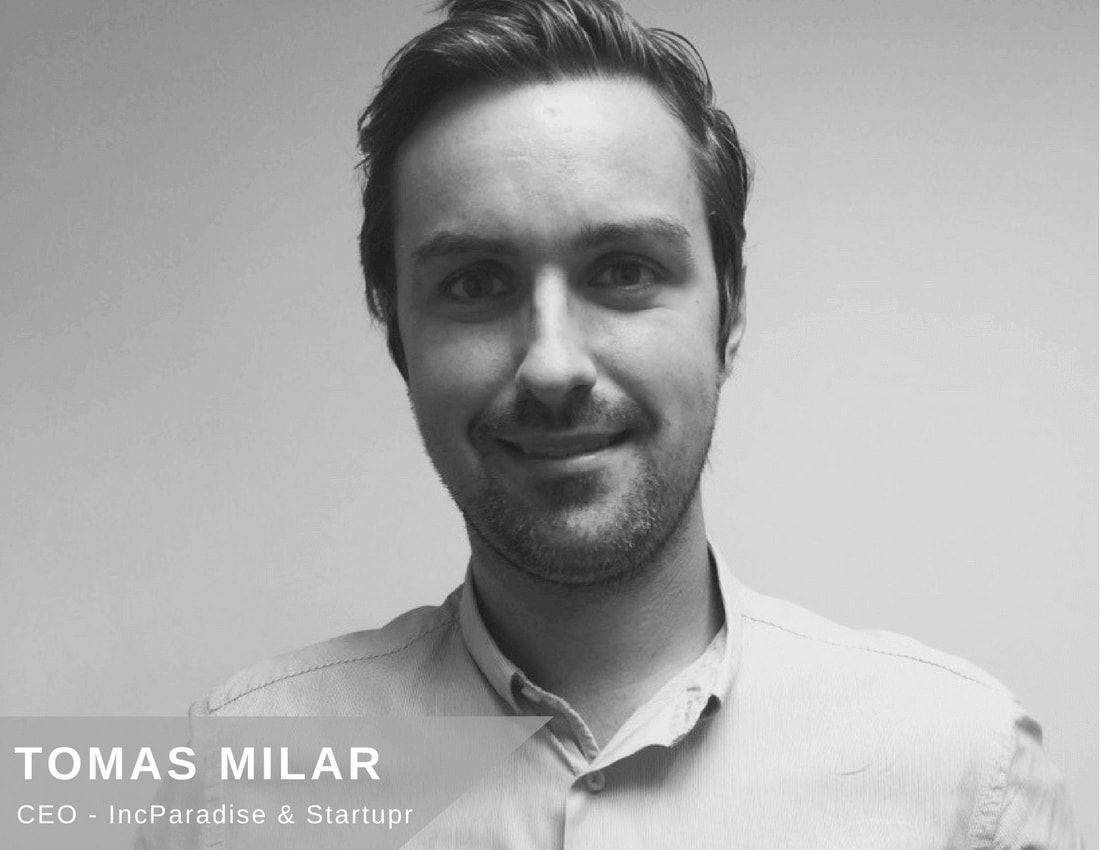 1. Tell us a bit about yourself and your entrepreneurial journey.
Answer: Hi All, My name is Tomas Millar and I am the CEO of IncParadise and Startupr – corporation service providers in the USA and Hong Kong respectively. I've helped entrepreneurs in the acquisition, business structure, and run businesses all over the world. I'm passionate about incorporation and business structuring, and I constantly search for new solutions and more effective approaches for businesses successes. Thus, with this strong focus on business growth and my past experiences helps in building up my companies from Startups to successful businesses.
2. What's the story behind IncParadise?
Answer: IncParadise was formerly known as EastBiz.com, Inc. formed by John Vanhara in April 1999. First, it started as a software service company and in 2001 John decided to move into corporation services and our company has been grown tremendously with their services. I founded Startupr in Hong Kong in 2011 and Startupr has been working closely with EastBiz.com for nearly 7 years. In 2017 we acquired EastBiz.com, and it was very important for me to acquire a company which I knew very well. It was a unique and perfect experience to acquire such a great company like EastBiz.com. Today, IncParadise is helping many entrepreneurs to form their corporation or LLC, also providing other company corporation services, virtual offices, and mail forwarding etc.
3. What made you successful as an Entrepreneur?
Answer: For me, success entirely depends on our environment. Luckily, I got the right environment and it helps me to get engaged in and enthusiastic about what I'm doing!
Interview with Tomas Milar, CEO of IncParadise & Startupr
Click To Tweet
4. How would you define true Entrepreneurship?
Answer: If you really want to be an entrepreneur, the motivation needs to come from within you, believe in yourself and make your goals. And, before starting any business, the first thing you need to do is thoroughly understand the customer's problem and then create a solution or product to solve it. Most successful entrepreneurs choose their business domain from their own personal experience or need and in my case also the same happened.
5. We see a lot of Startups or Small Businesses fail in their first year itself, what will be the reasons for it, in your opinion!
Answer: There may be a lot of reasons, like; lack of management skills; sometimes you may fail to meet your customer's needs with your product or solutions, unprofitable business model or a poor financial management. But the most important thing that I felt is, many small business owners want to see quick success and revenue from their business. They start dreaming about becoming millionaires in a short-term period, but from my experience, I think it will take some time to grow their business. The thing is, as I already said in the above "Believe in Yourself" and have the patience.
6. When should an entrepreneur incorporate their business?
Answer: The best answer will be before you start your business; this ensures your business is starting off on the right foot. Because incorporating a business gives them a lot of benefits including protection from personal liability, significant tax savings and even they can easily raise funds for their business. More than all, it increases their business credibility and helps to get more customers or partnerships.
7. Besides incorporating, any other important thing entrepreneurs should focus in their start?
Answer: Protecting trademarks and intellectual property, most small business or startups are not aware of the importance of trademark or intellectual properties. Small business or Startups should really focus on protecting their business ideas with trademarks and copyrights.
8. What advice would you give to young entrepreneurs?
Answer: It's also a lonely path and not easy to walk as you might not see many unexpected problems.
You must be fast and execute. If you don't understand the situation you're dealing with, hire experts, don't hesitate to ask for help! Patience is probably the most important skill you need to learn. Another important skill is persistence. You can't simply give up!
Thank you so much, Tomas for spending time with us for this Interview.