Mail Forwarding is one of the most beneficial services for the new startups, but many of them avoid it as they do not find it that useful. At IncParadise, we can take care of all of your needs wherever you are in the world. In fact, we are a step ahead! We have launched a Mail Forwarding Application for both iOS and Android that can assist you and make your load less.
So, get the mail forwarding address in the best state, and by being in the US makes a big difference regarding saving money and time.
What does our app offer?
Mail forwarding app enables you to access your account in an all new way. You need not get into trouble for getting mails. All you need to get is our application! Download our application, get all the important notification and simply see what you have in your box. The best thing is that you will never run out of postage as you can simply click and add postage.
The app will provide you everything that you can do on the desktop version for mail forwarding. You can click to request for a scan or to trash a letter. You can simply select to ask for a special request. We are delighted for you and hope you enjoy the app.
This application is especially beneficial for businessmen who maintain various address for their business (or perhaps gave different addresses to different clients) as it allows them to get all the mails in one server.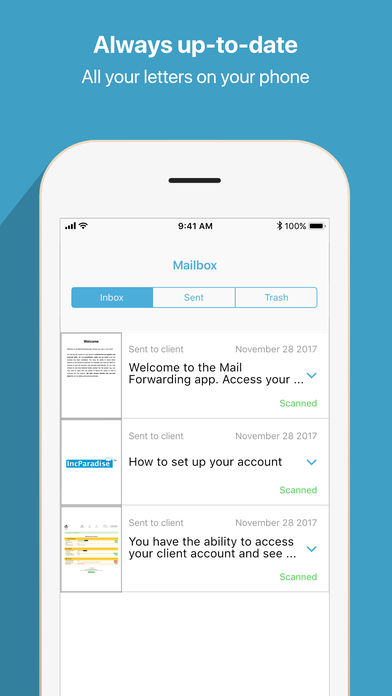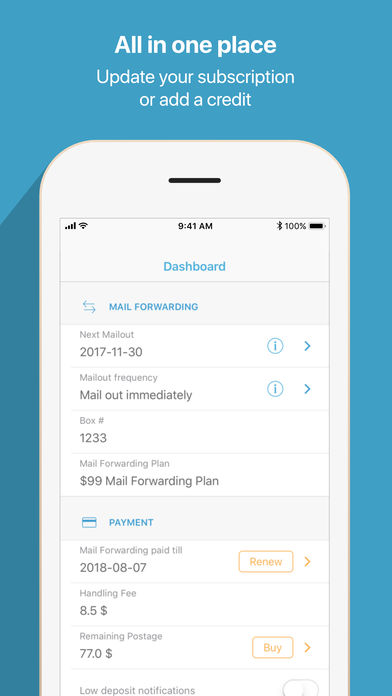 Advantages of Mail Forwarding App
Mail Forwarding app is beneficial for entrepreneurs who have a different address for their business. They can rely on the application for convenience and promptness of reading or replying to their mail.
Prevent flooding of mails: Whenever you receive a postage or mail, it is updated on the app, you can check the inbox, keep the desired ones and remove the ones that you don't want. Thus, it avoids mail flooding in your house.
Get important mail or postage almost instantly: The problem with a cluttered inbox, one may never know the extensive mail or that postage has arrived to the postal address, which may be important and hence, miss something important.
Privacy: You have the desired privacy when using mail forwarding service, you don't have to use your name and private address for business use anymore. This is a great benefit for people who are worried about their privacy, and want to separate their private correspondence with their business correspondence.
IncParadise Releases their New Mail Forwarding App For IOS and Android
Click To Tweet
Cost-effective and convenient: Mail forwarding apps are remarkably convenient for business owners, as they don't have to spend their days waiting at home for necessary packages. You can choose which mail you want and get in a satisfactory period of time.
24/7 access to received mail: With the mail forwarding app, you have access to your mail 24/7. Whether you are traveling, you can check your received mail in your account interface. You can stay regularly updated on the latest business mail your company receives.
Saving you money: With this app, you can save your money! When you compare companies and the services they are providing mail forwarding services side-by-side, we are the very least expensive service of our kind.