Starting a business does bring a lot of excitement, but with those also comes a lot of responsibilities. And most of the time due to the excitement, entrepreneurs tend to forget the need to get the common business licenses and permits for running their business. Nonetheless, getting the needed permits and licenses for your company is mandatory before you can start operating it. In short, you need to have all in place.
Moreover, if your company has employees working in it or is selling any taxable services or goods, you will need to register your business with the taxing authorities as well. The business license requirements vary from industry to industry. But every business needs to check about the license and permits needed before commencing their business. Here are some details to help you understand better.

Business License
As mentioned before, permits and licenses are mandatory for a business to operate legally. Every business needs some kind of license, tax registration, or permit at the federal, state, county, and local levels. Each requirement is based on the activities of the company, the industry, and location. And understanding the one you need for your business can be an issue.
Why are business licenses required?
Business licenses are needed for three main purposes, which include:
To keep track of all the company's finances for tax purposes.
To protect public safety and health.
To identify your business and ensure that you are accountable for your actions.
What Are the Drawbacks of Not Getting Your License and/or Permit?
If you are not compliant with the tax regulations, permits, and licenses, it can leave you unprotected legally and may lead to expensive penalties. This can also jeopardize your business. Due to the pressure against raising traditional taxes, the government is searching for ways to get an alternative revenue system. It just means that the business license evaders have to take care of it, or pay hefty penalties and have their business shut down. A lot of the government agencies also resort to hiring a third party collector for getting the fee from the business.
Here are some of the drawbacks of not being licensed properly:
You would have to pay hefty penalties and interest, or even personal liens if you do not obtain the business license.
Your location may be padlocked.
You are not allowed to open your new location.
Who issues a business license?
Since the tax regulations, permits and licenses are administered and issued by all levels of the local, state, and federal government, you will need to check which one is needed for each level. Any and every company that is about to conduct business in any place in the country, state, county, or even the locality has to get the required license as per the government rules in that place and for each level.
And once you find out about the licenses you need, you will have to go to various different agencies to obtain your business license since many government departments are involved in the process. In fact, there are over 40 thousand independent licensing jurisdictions in the USA, and each has its own separate licensing requirement. Obviously, you would not need even 10% of the total business licenses there, but you would need at least some. So, it is important to know which ones you need and have them prepared before you commence your business.
What are some common business licenses, permits, and tax regulations?
Here are some of the common business licenses, tax registrations, and permits that a business might need, but are not limited to:
Business license – When you obtain a business license, it grants the owner the right to start and operate a specific kind of business in the country, state, county, or city in which the license has been issued. It is basically a kind of permit that indicates that the government has approved the status of your company and your business can operate smoothly there.
Home Occupation Permit – This is another one of the common business licenses where you need this permit if you are operating your business from your home.
Zoning Permit – Another one of the business license requirements is the zoning permit. A zoning permit is a permission given by the government to a business to use a property in the zone for their business.
Building Permit – The building permit is an official approval issued by the local government agency that allows you or your contractor to proceed with a construction or remodeling project on your property.
Health Department Permit – This permit is needed by those businesses that offer food or anything that is or will be consumed by people.
Sales Tax License – Another one of the business license requirements is the sales tax license, which is also called the sale tax permit or registration in a few states in the USA. It is basically the agreement with the state tax agency to collect and remit sale tax on the items that are sold by the business.
Sellers Permit – The seller permit is a state license that permits you to sell items through your business at the wholesale or retail level and to issue the resale certificate to the suppliers. This certificate would permit you to buy items that you will sell in your business operations without paying amounts of tax to your suppliers.
Fire and Police Department Permit – You will need this permit that would prove that your business is not hazardous and would not risk anyone in the business and outside the business.
Withholding Tax Registration – It is mandatory for every employer (that is if you have employees) to withhold the federal income tax as per the IRC. To be eligible to withhold the tax, the company has to register for the same and get this license.
And just like these, there are many other common business licenses that many businesses might need. To find out which one is needed for you and your business, you will need to connect with a government agency nearby or contact us to discuss further.
IncParadise Gets Your Business License Research Report
Before you can get the licenses, you will need to know what are the different business license requirements for your company. That is where IncParadise comes in. IncParadise offers the business license research report that will help you business learn about the various licenses that it needs to operate.
Although it might seem like something you can do on your own, obtaining the business license research report is a highly daunting and time-consuming process. That is why companies like IncParadise are here to help you. Our team would assist you in making the complete process much easier and smoother by preparing the business license research reports that would have the list of permits and licenses needed by your company at the local, county, state, and federal levels.
This business license research report contains a list of filing instructions, supporting document requirements and fees for all business licenses and permits in the US. It would help you understand all that you need and help you to avoid any penalties that might come your way for missing even one permit or license.
Here is the process that IncParadise follows to help you with your business license reports:
Determine the business industry, activities, and location – We will begin by using your business location, activity, and industry to identify the various federal, state, and local business licensing requirements for your business.
Search, identify and verify the required license and permits – The team would then search the system to identify and then verify the needed common business licenses and permits for your company.
Prepare a report listing the required licenses to operate the business – We will then prepare the business license research report and share them with you so that you then go ahead and get the required licenses and permits to run your business smoothly.
Sample Business Report from IncParadise
To help you understand how the report would look like, here is a sample.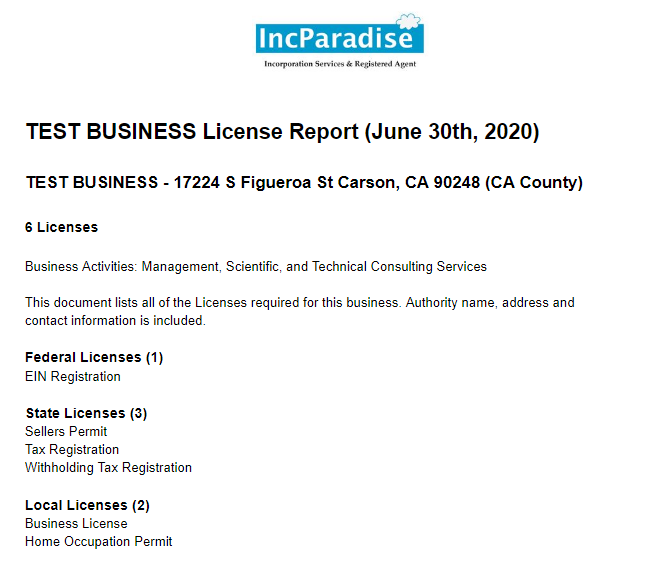 Need a Business License Report?
Well, we can help you. IncParadise has been in the business for a long time and we do not just help you in incorporating your business but also in guiding you to get the right business licenses and permits needed for your business. So, what are you waiting for? Contact us today and let us schedule a meeting to understand your business better and prepare the business license research reports!