A lot of us dream of having a profitable business that serves customers all over the world, instead of getting a full-time job that would restrict us from many directions. In case you are a person like this and have decided to change your life for the better, you should try to start a dropshipping business.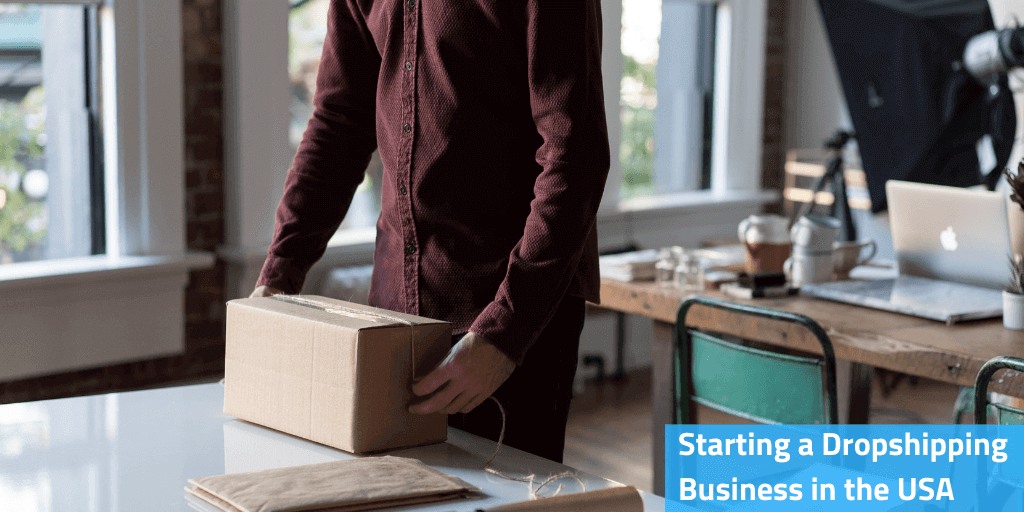 It is one of the easiest ways to make money online and it is cheap to start as well. But due to the cheapness, there is a lot of competition in this. And this is not where the story ends; you too can become highly successful in this if you follow the right methods. To learn how to do it and what dropshipping is about, keep reading!
Dropshipping Business
Before we can understand in depth about what a dropshipping business in the USA is, we need to understand what dropshipping means. Because understanding how the dropshipping model works is very important as it is a lot different from the eCommerce businesses and retail.
What is dropshipping?
Dropshipping is a supply chain management method in which the retailer does not keep goods in stock but instead transfers the customer orders and shipment details to either a wholesaler, another retailer or the manufacturer, who then ships the goods directly to the customer.
What is a dropshipping business?
With that clear, a dropshipping business in the USA is where you are able to sell merchandise to your customer without holding an inventory. Let us explain this better and in detail; A customer will purchase an item from your store at a retail price. You then forward the order to the supplier, which you pay on the wholesale price. As soon as your supplier gets the order, they ship the item directly to the customer under your business name while you earn the profit margin.
In short, all that you have to do is set up the retail website, find customers and handle customer support.
There are many people around the world that make five, six, and even seven figures incomes from dropshipping and there is no reason why you cannot do the same. And dropshipping is a business model that is available to almost everyone regardless of their location, education and so on. To put it in a nutshell, it offers entrepreneurs the following benefits:
No need for background knowledge
No investments = no risks
No extra staff and stuff
No boss = no bureaucracy
No limits of expanding your business
Why start a dropshipping business?
If you are about to start a dropshipping business, then you need to know that there are a lot of benefits to doing this. These include:
Easy Internet access and growing mobile device usage lets you stay in touch with your suppliers and customers 24/7 and guarantee brilliant business performance.
Globally trusted payment gateways that include Stripe, 2Checkout, PayPal, and others are available. This is also one of the reasons why you can easily receive and manage your well-earned profit.
A multicultural environment helps you in learning a lot more about life and the different ethnic groups in the world. You can then tailor your offers to various customer segments using this knowledge.
Basically, there is nothing that will stop you from making money in this business. And at some point, this venture can be taken to a global scale allowing you to turn it into an empire.
Dropshipping Business in the USA
There are a lot of benefits if you decide to start your dropshipping business in the USA which includes the ones mentioned above. Moreover, it does not mean you have to just target your business in the USA only. You can easily start off with selling in the USA, which is the strongest economy in the world. But do not stick here; you can expand and grow to offer your services all over the world.
The dropshipping model lets you deal with buyers across the world. Additionally, the US infrastructure is perfectly optimized for eCommerce. With this, you can easily enjoy a healthy level of profit and easy business management. To help you understand better, here are the five reasons why you should start a dropshipping business in the USA:
Fast and cheap shipping from Asia – mostly if you decide to get the products from there.
Large population which is equal to a high number of purchases.
High purchasing power, which means a high average order value of almost $100.
High standard of living and high wage income lead to more than half a trillion eCommerce sales per year.
More than half of the US population prefers to shop online. 96% of Americans have made an online purchase at least once in their lives.
In short, you would not regret it if you decide to open your dropshipping business in the USA. It would be the best decision that you have ever made.
How does dropshipping work?
In more simple terms, dropshipping works like this:
Find an online supplier who has the products you want to sell.
Show the supplier's products with marked-up prices on your website and advertise them.
Receive direct payment from the customers who buy from your website.
Redirect the orders to your suppliers and pay them their original price. Keep the profits to yourself.
Do nothing: the supplier will ship the order directly to your clients.
Repeat! Find more products and suppliers if you like, and enjoy greater earnings!
This means that you do not have to purchase and store bulk stock. And you can easily save a lot instead of investing money upfront. This also eliminates the risk of purchasing bulk items and then not being able to sell them out, leaving you in a loss. It is one of the main reasons why a dropshipping business in the USA is a very popular thing. You don't need to invest a lot and reap amazing benefits from it.
Steps to start a dropshipping business in the USA
With all that clear, how exactly do you start a dropshipping business in the USA? Well, other than a good work ethic, a positive attitude and a genuine motivation to commit to your new business venture, there are some other few essentials you need to start your business. They are:
A registered company
A product to sell
A supplier of that product
A platform to sell on
A sales tax ID
And some other things
Below shared are the steps on how you can easily begin your dropshipping business in the USA:
Step 1: Choosing a dropshipping niche
The very first thing that you need to do is decide the dropshipping niche. A niche is a segment of a market. For instance, Bluetooth speakers are a popular niche in the home audio market. In fact, the waterproof, outdoor Bluetooth speakers are a sub-niche of the Bluetooth speaker niche. You get the idea! So, you need to choose a niche for your business. The more specific the niche, the better it is for your business.
The issue with this business is that there isn't any niche that isn't already saturated. But new products and niches are emerging every week, so the opportunities are almost endless. In addition to this, do not mistake the fact that you can be successful in any niche. Since this kind of business is very popular and most of the niches are saturated, you will have to choose a new niche.
Also, pick up the niche you are fond of and focused on. It would be easier for you to market it then. Here are some points to consider when selecting your niche:
Seek attractive profits: When you are working on the dropshipping business model, the amount of work you put into selling a $10 item would be the same as the amount of work you put in to sell a $1500 item. So, select a niche that has higher-priced products.
Should have low shipping costs: Even though the manufacturer or supplier will handle the shipping, if the cost is high, it will act as a customer repellant. Select the niche that is inexpensive to ship.
Ensure the product appeals to the buyers with disposable income: When you focus on getter traffic to your website, you want to obtain the highest conversion rates. But most of the visitors do not return. That is why you should choose the product that will trigger impulse buys where people have the money to buy on the spot.
Ensure people are actively searching for your product: Add the right keywords and check if the niche is potential. If no one is searching for what you are selling, you are in the deep end of the sea and your business would finish before it even starts.
Create your own brand: Your dropshipping business in the USA will have more value if you can rebrand whatever you are selling and pass it as your own. Look for a line that you can white label and sell as your own.
Sell the thing that is not readily available locally: Select the thing that your customer cannot find down the street. With this, you will become much more attractive to them and get lots of potential customers.
In short, select the niche that would bring you business.
Step 2: Finding a Dropship Supplier
With the niche clear, you need to find a reliable supplier. This is one of the hardest tasks of starting a dropshipping business. It is because you rely on the supplier for the product in stock, to uphold the product quality and to ensure that the products are shipped to your customers in a timely manner. Basically, a supplier is just like your business partner.
So, partnering with the wrong supplier can easily ruin your business. Ensure that you conduct proper due diligence. Most of the dropshipping suppliers are usually located overseas. This means that communication is very important, both in terms of response speed and the ability to understand each other. In case you are not 100% sure about a supplier, it is better to move to your next choice.
In addition to this, ensure that you ask a lot of questions about their production capabilities and what happens if your business grows. You need to be sure that they have the ability to scale with you. Here are some points that you should look for in a supplier:
Have the right experience and staff.
Does not charge a huge order fee.
Offer fast shipping services.
Have quality products.
Provide referrals on request.
To help you further with this, there are two ways to find good dropship suppliers. You can either search manually or use a wholesale directory. We advise you to use both so that you have enough options in hand.
Step 3: Choose a business structure
If you are searching about your dropshipping business in the USA, you will want to set up a legitimate business entity for it. To help you understand the different kinds of business structures, here is the list:
Sole Proprietorship: It is the most simplest structure but also has the most risk as it does not offer personal liability protection. This means that if your company is sued, your personal assets would be used to pay off all the fines. The filing requirements are minimal and you need to report your business earnings in your personal tax return.
Limited Liability Company (LLC): With an LLC, you will have increased protection of your personal assets as your company will be considered as a separate entity. But in this case, you might have to comply with additional filing requirements and pay both the incorporation and ongoing fees.
Corporation: Most of the top corporations are set up as C corporations which also offer liability protection. But they are more expensive to incorporate and are subject to double taxation. That is not it; there is another kind of corporation called the S corporation. This has the same benefits as the C corporation but is taxed as a sole proprietorship.
So, you can choose from any of these and incorporate your company. Just so you know, a lot of entrepreneurs choose to open an LLC. In fact, it is the best choice if you want to start a dropshipping business in the USA. Once you have made your choice, connect with IncParadise and we will help you in the incorporation process.
Step 4: Register your business
Before you can incorporate your business, you will need a registered agent that lives in the state for your application. IncParadise has the license to act as a registered agent for any state in the USA. We would not just help you in being your registered agent but would also help you in incorporating your business easily. Also, we would offer you our address that can be used as your business address so that you do not have to spend extra on renting a place when all your work would be online. (For registering your business, you will need a business address, so it is important.)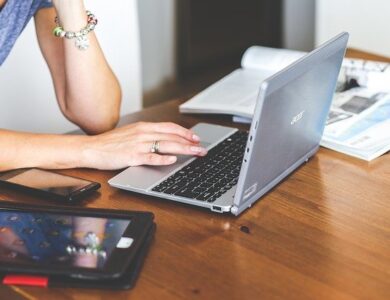 Additionally, for you to incorporate your business in another state other than the one you stay in, in the USA or if you are a foreigner, you will need some other services including the mail forwarding service. Just so you know, there are lots of documents that will be sent out to the official address that you have added for incorporating your company. This means you will need a virtual address. A virtual address usually comes with the mail forwarding service as well.
In this service, the company offering you the virtual address would be getting the officials mails there. And it is obvious that you will need the mails sent to you for your company and for making decisions. So. The mail forwarding service allows you to get these mails based on how you desire. IncParadise offers these services at a great rate.
Step 5: Get EIN
The next thing you need to do is get an EIN for your business. The IRS requires all businesses to have an employer identification number (EIN), which acts as a Social Security number for your business. You'll need this number to file your taxes, apply for wholesale dropshipping accounts, open a bank account and pretty much do anything related to your business. Fortunately, getting an EIN number is easy and free. You can easily apply for an EIN number online.
Step 6: Get your Sales Tax ID
Once done, you will also need to get the sales tax ID. If you are about to start your dropshipping business in the USA, you most likely need the sales tax ID, which is also known as the resale certificate, vendor's license, resale number, tax ID, reseller's license, or retail license. The sales tax is a tax levied on physical goods sold to customers and is normally about 6-9% of the sale price.
Most of the states in the USA require your business to have the sales tax ID including Delaware, Oregon, New Hampshire, and Montana. You will only need to get the sales tax ID for the state in which your company is incorporated in, if required. And the tax is added to the expense of the consumers on the retail price.
With this said, applying for the tax ID is inexpensive and simple. All you need to do is visit your local county clerk's office or on Google, just type "[your state] + sales tax ID". You will get the details. But remember, for you to get the sales ID, you will need to have followed the above steps.
Step 7: Getting Your Finances in Order
The next step is to get your finances in order especially if you have an LLC or a corporation. To keep your personal assets protected, you will need to separate the business and personal expenses. This is done by getting a business bank account and getting a credit card.
Business Checking Account: You will need to run all your business finances through one primary checking account. For that, open a business checking account. It will make accounting much easier and help in avoiding the situation where you pierce the corporate veil.
Credit Card: Although you might not feel the need for this, it does help a lot. Getting a credit card can help you purchase things you need when you don't have the finances for it. Also, it would help you build credit for your business in the eyes of the bank. So, in case you need help with a loan, later on, you will get the help needed much more easily. You can also enjoy huge cashback discounts for purchases.
Step 8: Choosing a selling platform
Now that you have identified the market and aligned with a supplier, it is time to build the website or find a place where you can actually sell the products. There are two ways to go with this for your dropshipping business in the USA. You can either create a store on a major eCommerce marketplace like eBay or Amazon, or just build your website from scratch using an eCommerce platform provider like WooCommerce or Shopify. Let us understand each option:
eCommerce Marketplaces: The main benefit of selling on a well-established marketplace like Amazon is that they are easy to set up and users find them to be trustworthy. But using these marketplaces limits your independence as a merchant. You will have limited control over the design, marketing, and branding of your store. Additionally, these platforms will charge you a fee on every sale that you make and you have to adhere to their terms of service.
eCommerce Platforms: If you are going to start your dropshipping business, it is better to build your own eCommerce website. As mentioned before as well, your marketing will set you apart from the competitors as these platforms offer a lot more functionality for your website. There are a lot of great eCommerce platform providers out there.
Selecting the one that is the best for your business depends on your dropshipping supplier as some offer direct integrations. Basically, consider what kind of store you want when deciding the platform. Platforms like BigCommerce and Shopify are more product-focused stores. If you want your store to be more content-focused, then WooCommerce is a good choice as it integrates with the content management system WordPress.
Step 10: Implementing a customer acquisition strategy
Having a great product and a website is a good thing, but without customers looking to buy, you do not have a business. There are many ways to attract potential customers and this is where a customer acquisition strategy comes in. Customer acquisition is the art of persuasion. You can think of it as advertising and marketing. It sounds expensive, right? But it doesn't have to be. You can take the fast (paid) path or the slow (free) path to gain new customers. Let's take a look at both strategies in more depth.
Fast Results (Paid)
Below are the methods through which you can get fast results but you will need to pay for it to be done:
Facebook Ads for Dropshipping: We all know that Facebook is the largest social media platform. It is a great place to advertise your products since you can reach out to a huge audience. But you will need to pay for the ads as that is how Facebook makes money. In fact, this option is a good one as:
It's easy to get started.
You control how much you spend each day.
A good ad or boosted post can go viral.
It can yield fast results.
You can target highly-specific demographics (location, interests, relationship status, etc.)
It helps to increase brand awareness.
Google Ads for eCommerce: Google is the world's most popular search engine and has been so for a long time. So, if you have an online store, you will want it to rank at the top of Google. You can achieve this organically or just buy ads for your store that will appear on the top. Google ads are a good option for the following reasons:
You can achieve great exposure in search results.
You can target highly-specific demographics (location, language, device, etc.)
It's the largest advertising platform in the world (Google search, Youtube, Gmail).
Maximize exposure to your ads with high volume keywords related to your niche.
Social Media Influencer Marketing: Influencer marketing has become a huge part of customer acquisition for a lot of retail brands in recent years. In fact, it is very effective if you are a trendy niche such as a new style of handbag, etc. All you need to do is reach out to an influencer and ask them to share a post with your product tagging your business. This one post can gain you a lot of fans and customers. But it is costly as the influencer usually charges a lot based on their followers to do this.
Slow Results (free)
Below are the methods through which you can get slow results and for free:
Blog or Forum Marketing: In this, you will have to find forums and blogs that are related to your product and actively participate in the discussions. You can also add a link to your website that will get you traffic and customers from it.
Content Marketing: This is normally done by having a blog page on your website with blogs updated regularly, a YouTube channel and videos updated frequently, adding witty posts on Twitter, or trendy Instagram posts. This is a great way to build an audience, build relationships with your customer and also get customers.
Social Media Marketing: It includes posting on your page and related pages or groups about your product on various social media platforms. This is not very easy but it does help if you keep updating things regularly. Once you get into a good place, you will begin to get loyal customers.
Email Marketing: This is still one of the most effective ways of getting customers today as well. Create a witty way to capture email addresses like putting up an offer or so. Once you have the list, you can reach out to people regularly for free.
How does IncParadise help you?
Huzzah! You have finally reached the end of how you can start your dropshipping business in the USA. Now, it is time for you to begin the process and work on building your empire. IncParadise can help you in starting your business. We help you in incorporating your company also with some additional services such as mail forwarding and virtual address.
But remember that once you have started it, that does not mean that your work is over. You have to successfully run the business now. Here are some tips:
Keep updating your website and work on the SEO.
Maintain a good relationship with your supplier and keep tabs on the product's quality.
Keep up with your customer service.
Stay on top of your social media. Refine your ads, run contests, and promote like crazy.
So, contact us to have your dropshipping business in the USA set up now. And start to build your dream empire today!