Hello All, Today in our employee spotlight interview series, we had the opportunity to catch up with Ashley Canez, Office Manager at IncParadise.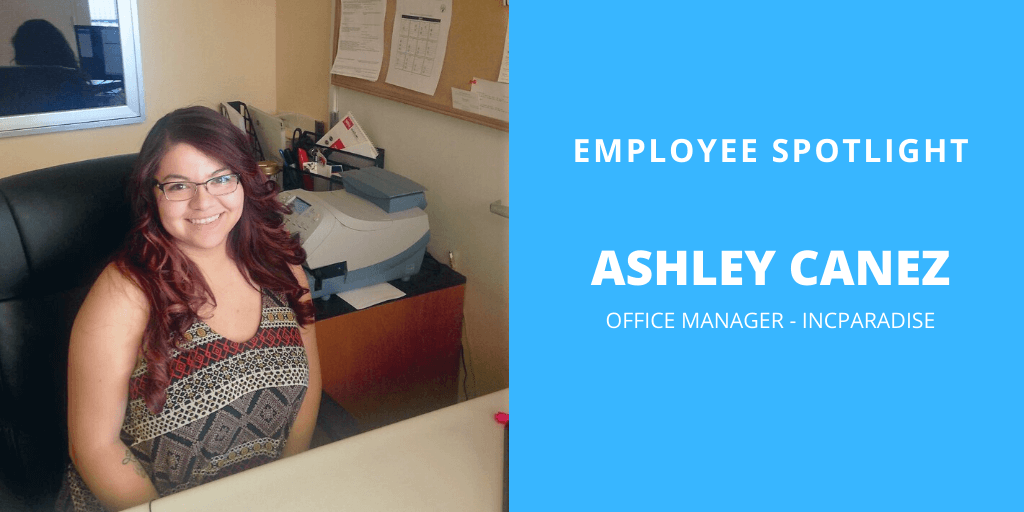 1. How long you have been with IncParadise and what do you do here?
I have been with IncParadise for 3 years. Initially, my position was mail forwarding/front desk which intel processing and shipping of mail orders. Because IncParadise carries a culture of employee growth, I was given the opportunity to become the Office Manager. I currently oversee the day to day operations, implement and enforce processes, and strive to create a productive/comfortable environment for both clients and colleagues.
2. What is your favourite thing about working at IncParadise?
We are a small but highly effective team, with a family like culture. We depend on each other skills and knowledge to service the vast amount of clients from all over the world.
3. What does your average day look like?
I start my day at 8:00 am, it will typically start with checking emails and returning phone calls. Providing an expedited response to our customers is priority, we want to make sure that customers have the knowledge necessary to make critical decisions. Next would be to prioritize/delegate office projects and communicate with team members to make sure they have everything necessary to be the most effective they can be. Finally over site of the managerial duties such as facility, payroll, and one last check of the email would typically wrap up the day.
4. Would you like to share any experience with any of our clients who started their new business recently with your help?
Every day it is our mission to provide the knowledge and excellent customer service to all of our clients. Recently I had the pleasure of helping a client in Australia, set up a parts distribution business. After a lengthy conversation I was able to provide this specific customer with all of the services he needed including mail forwarding.
5. Tell us some challenges you face in your work routine and how you overcome it.
Priority number one is customer complaints, though it is difficult to endure constructive criticism. We understand without our clients we could not sustain business, which inadvertently affects clients business in a major way. If ever an issue where to arise, myself or any one of my team members would promptly take action evaluate and remedy the issue.
6. How would you prioritize tasks that come up simultaneously?
Tasks are arranged based on urgency, typically orders or items with due date of same day are handled first and those with later timelines are handled accordingly. We strive to finish everything humanly possible within the same day.
7. Can you tell us about a time/situation when you were proud of the level of service you gave to an IncParadise customer?
Here at IncParadise we pride ourselves on our customer service. Recently a client had called with the expectation of having to deal with a dreaded automated system, that would attempt to answer some quite intricate questions that typically do not have general answers. After answering questions that he had, he decided to entrust us with his business needs and signed up the same day!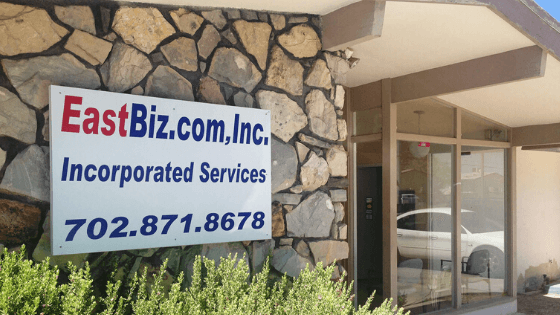 8. What is the most significant contribution you made to your team?
I believe the most significant contribution I have made to my team is my leadership, dedication to improvement, and positive attitude. It is my duty to provide a structured environment that, my colleagues may flourish in. Which will in turn translate into efficient quality service to our many clients. I am always here to help and make everyone's day more easy.
9. How you utilize customer's feedback to ensure business excellence?
We welcome customer feedback, which helps us in improving our services. When it comes to negative feedback we reach out to the client and work with them to help them, until the end.We also request our clients to share their feedback through Google Reviews and you can see how IncParadise customers love our services by looking at these reviews here.
10. How IncParadise is preparing for a successful New Year 2020?
We here at IncParadise are constantly looking to improve our customer experience, through implementation of our downloadable application for convenience or expansion of our team to provide even faster response time and productivity. As we continue throughout the year we will constantly be taking a step back an re evaluating on ways to improve. We understand that no matter how well we do there is always room for improvement here at IncParadise.