Do you want to set up a business in the US? But you are worried whether a foreign citizen can start a US-based company. As a matter of fact, there are plenty of reasons for incorporating the business in the US- from the business-friendly environment, supply chain, infrastructure, workforce factors, and quality of life considerations to a specific technology.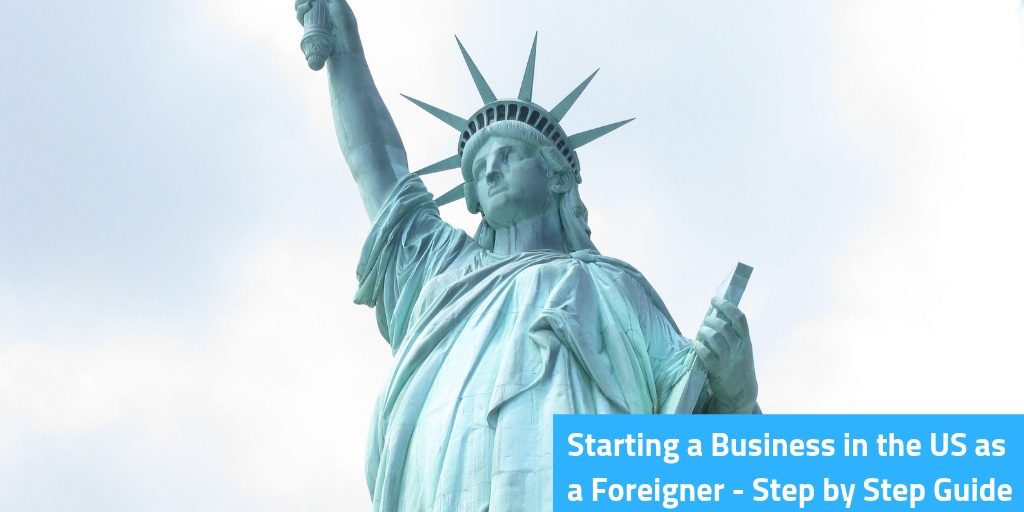 If you are curious to start a business in the USA, then look no further. This article will help break down the complexities of starting a business in the USA for foreigners. Read on to learn how to get started.

But before providing you with the steps for incorporating your business in the US, let's dive deep into the benefits of setting up the company here. As we all know that business people set up their firm in a particular place so that they can generate more revenue and operate their organization smoothly too.
Why choose the USA?
Well, venturing into the United States market can be rewarding for many foreign-based businesses, and since U.S. citizenship and residency are not requirements, non-U.S. citizens are free to start or expand their business in the competitive world.

More importantly, the United States has become their first choice to put their money, regardless of the industry, gain competitive benefits from one of the most open markets on the planet.

Do you want to know more about the reasons? Here are some reasons why several people choose the USA rather than in other places in the world.
World's Largest Market
Do you know that the United States offers the largest consumer market on the earth? This is true; the state has a GDP of $20 trillion and comprises 325 million people. In fact, the USA holds the highest record in household spending in the world, with approximately a third of global household consumption.

Along with the same line, the state also offers free trade agreements with nearly 20 other countries in order to enhance access to hundreds of millions of additional customers. More importantly, the United States is also still working with different firms to increase opportunities for U.S. exporters.
Nexus of Innovation
The United States is also recognized as a prominent leader in the research and development sector (R&D). Moreover, this place also registers more international patents in the world than any other country. And if you are thinking about today's innovators, then you don't need to worry.

In the United States, a robust intellectual property protection framework protects them with more ease while tomorrow's innovators are also nurtured at leading universities and incubators across the nation.

No matter whether you are setting a small-sized business or medium-sized of the organization, United States government will help you in setting it smoothly, getting more benefits from – and contributing to – a flourishing ecosystem for invention and inspiration.
Ease of Doing Business
Another reason for starting a business in the USA for foreigners is ease of doing business. Every business owner wants to operate their business without any interruption from any government and other things. But in the United States, you don't have to think about this factor.
Being supported by a regulatory environment that is particularly conducive to launching and managing the firm, the culture of U.S. business always encourages free enterprise and competition. Furthermore, the United States is also known to be a stable democracy with a transparent and predictable legal system for all companies.
Workforce Talent
Workforce talent is one of the most important aspects of any business entity. When the workers are experienced and have the creativeness in their work, then there are more chances that your business remains updated in the environment. And here you will be happy to know that the workforce of the U.S. is skilled, innovative, mobile, and diverse.

Moreover, U.S. workers are among the most productive in the world. For the betterment of the future, the United States has also prioritized collaborative mechanisms with private-sector and public-sector organizations so that the workforce can meet the needs of a 21st-century economy.
Access to Capital
There is no denying the fact that the money is the bloodline of any business entity. As we know that in order to live life happily, our blood should flow smoothly; similarly, to operate a business in the competition, we are also required to have proper access to capital.

However, if you are thinking of starting a new business in the US, then you don't have to be worried about this area. The United States has already jam-packed with the most developed, flexible, liquid, and most efficient financial markets in the world.


Steps to follow to start a business in the USA for Foreigners
Now that you have a profound idea about why several entrepreneurs are choosing the US for setting up their business. The next step is to learn how you can establish a business in the United States without any legal system problems.

Well, setting up a startup as a foreigner sometimes can prove to be a long route, but you don't need to feel scared. The country will help you in making the registration and operation your company easy and comfortably. But one thing that you need to know is that in the United States, you must acquire a good command over the English language.
Let's dive deep into the article to know about the steps for starting a business in the US as a foreigner.
#1 Select Your Company Structure
As a foreigner in the US, you have the liabilities to establish a Corporation (also called a "C-Corporation" or "Regular Corporation") or an LLC. However, there is another entity type known as an "S-Corporation," but that entity requires all shareholders to be US Citizens.

So, if you are thinking about establishing a C corporation, then you can experience a plethora of benefits. This corporation can be easily expanded by providing unlimited stocks. Although, its profit is taxed twice, firstly at the corporate levels, and then as dividends to shareholders, this entity is typically more attractive to outside investors.

Moreover, for shareholders of corporate companies, the benefits are usually clear such as they typically qualify for a lower dividend rate as compared to others. What's more, the corporate parent won't have to pay capital gains when it sells the U.S. affiliate, as long as the U.S. company doesn't primarily hold real estate.
#2 Choose a State to Register Your Company In
After selecting the type of company structure, you need to choose a state where you want to register your business. The location also depicts your business. It should match up with your business objectives and goals.

If one state dominates its market, then it's best off incorporation there; there's no way to avoid obligations of doing business over there. Let's say, California, a famously high-cost jurisdiction, by registering in Nevada or Delaware, two famously low-burden states.

On the contrary, side, if you don't have any choice for a particular state for your business, then most advisors will probably recommend Delaware incorporation, followed by Nevada. The reason behind is Delaware has the best flexible corporate law that provides generous protections to directors and shareholders, and also due to its outsider-friendly rules.
#3 Register
The next step is to register your business in your chosen state of the US. Every place has different forms and requirements for setting up a business entity. So, below shared are the steps to register your business in Delaware, which serves as a simplified model for many states-

The company principals choose a unique company name.
Every company needs to select a registered agent that can assist them in receiving legal documents for the company.
After that, the organization has to fill out a one-page certificate of incorporation that depicts about the total amount and par value of the shares the corporation is authorized to issue, the name and address of its registered agent; the name and mailing address of the incorporator.
#4 Obtain an Employer Identification Number
As soon as you register the business in a particular state, you are required to get an EIN (Employer Identification Number) for your company in order to start a business in the US as a foreigner.

Well, this number is not essential for hiring workers, but it helps in opening up a bank account, pay taxes or often to get a business license. However, if the U.S. company's principal officer known as the "responsible party" by the IRS has already obtained a separate Taxpayer Identification Number from the agency.

In that case, it can't apply for an EIN online; then it must be applied by FAX or through the mail. Moreover, where the form asks for the Taxpayer Identification Number, enter "foreign/none."
How IncParadise Helps?
So, now you have a better idea about starting a business in the United States as a foreigner, it is time to begin working on your plan. Just make up your mind; choose the best business structure and the best location as per the demands and needs of your business entity.

Once you are done with all these, you need to register your business, and here comes the role of Inc paradise. We will assist you in registering and incorporating your business without any legal system problems.

From incorporation to assistance in setting up your company, IncParadise is here for you. And our back office system is just like icings on the cake. IncParadise never stops in helping customers even after you have set up your company. With our application system and the help of our professionals, you would be able to stay up to date with your company's operations.