If you are an entrepreneur who is considering starting a new business in the US, you might have heard about incorporating your startup in Delaware. But do you know, why it is popular among new business owners? Delaware has over a million companies incorporated from different states, out of which more than 60% are Fortune 500 companies and more than 50% of them are publicly traded companies in the U.S.
To operate your business entity in Delaware, you need the right name for your Delaware business entity in order to stay away from legal system problems. Well, searching for a name in Delaware is a straightforward process, but be sure to follow the guidelines so you can avoid trademark issues and include all required elements.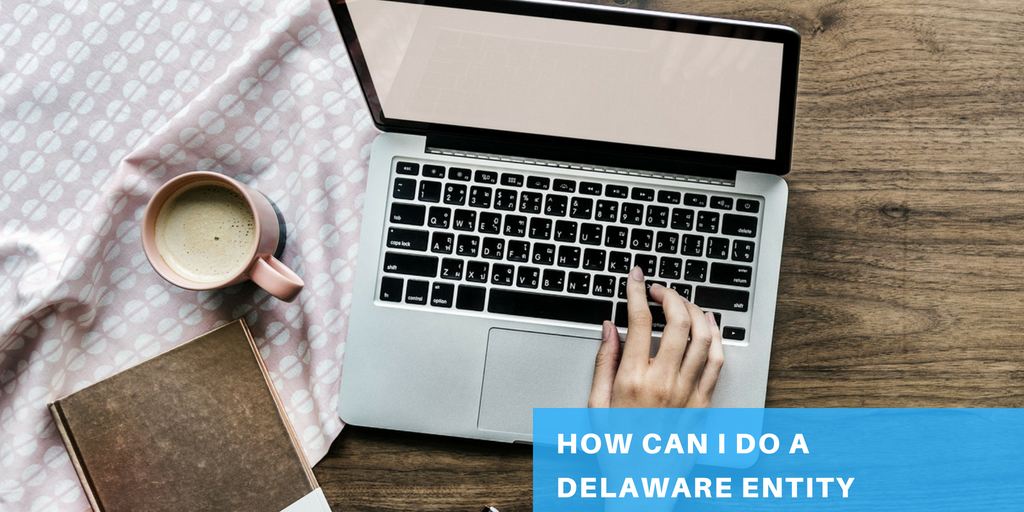 What Stands for Delaware Entity Search?
The entrepreneur uses a Delaware entity search for picking up a new name for their business in Delaware to make sure that other company doesn't use that name. As a matter of fact, selecting the right name is vital because it shows your employees, suppliers, and customers, what your business does. Delaware has several rules and regulations about what you can call your new business. But before getting started for your Delaware entity search, it is essential to understand why most business entities choose to incorporate in Delaware.
Why Incorporate in Delaware?
You must be curious about the fact that why most of the entrepreneurs choose to incorporate their business entity in Delaware? From small businesses to Fortune 500 firms, companies and their advisers prefer to incorporate their company in Delaware over any other state. But why? Well, there are two significant reasons for Delaware's dominance of the corporate incorporation business.
The first and foremost reason is the bipartisan political consensus in Delaware to keep the Delaware corporation statute modern and up-to-date and to rely on Delaware's corporate law specialists for advice on how to do this. The corporation laws of Delaware are also written to provide a higher degree of flexibility to the founders of corporation concerning the structuring of the rights of the director and shareholder, the terms of a company's classes for investments, stocks, for mergers, acquisitions, and takeovers.
The other primary reason for choosing Delaware for incorporating a business entity is the quality of Delaware judges and courts. Delaware has a special court, the Court of Chancery, to rule on corporate law disputes without juries. Because of the familiarity, depth, and friendliness of corporate legal history in Delaware law, investors have a preference for Delaware corporations.
So, if you are seeking to attract outside investments from venture capitalists, private equity, and angels, incorporating in Delaware is often the best way to go. However, there are certain steps that you should follow in order to avoid frequent mistakes while doing Delaware entity search.
How to do a Delaware business Entity Name Search
By now that you must be understood why Delaware is the most popular state in the nation for forming a corporation. So, are you ready to incorporate your company in Delaware? The first and foremost step for incorporating in Delaware is the need to select the name of your business organization.
Well, searching for an entity name in Delaware is an easy and straightforward process. You can conduct your name search using the State of Delaware's official General Information Name Search engine or you can also hire the professional like IncParadise for your Delaware entity search. Below mentioned are some of the steps that you should follow while selecting the name of your company.
Use the name availability tool and type in your potential company name where indicated.
The search engine will show you a list of entities, both inactive and active, with similar or exact names to your selected name.
Now you can click on the individual entity names on the list. Entity information provided includes; file number, formation or incorporation date, entity name, and the registered agent's phone number, name, address, and residency.
Note- The search engine tool will not comprise the information about the type of the business entity, and whether your potential name is considered as "available" under the state law or not. However, you will still get a general sense of the number of possible conflicts you might face regarding your selected company name.
How Can I Do a Delaware Entity Search?
Click To Tweet
Prohibited Elements of a Delaware Entity Search
Picking a business name for your business entity seems like the natural part of a business, but actually, it's essential to do a Delaware Entity search to make sure another company doesn't already take the name you love! According to Delaware law, your corporation names must consist of certain elements such as-
Corporation names must consist of one of the following words or terms: "fund", "corporation", "incorporated", "syndicate", "company", "society", "club", "foundation", "association", "limited", "institute", "society", "union" or "public benefit corporation".
You can also use the abbreviations such as "Co.," "Inc.," "Ltd.," and "Corp." in your selected business name.
The name of the new corporation should be "distinguishable" from the names of existing entities formed in the state as well as those entities formed in other states that are qualified to do business in Delaware as "foreign" entities. However, even slight variations in the name can qualify as "sufficiently distinguishable."
Note– Certain elements which you cannot include in your business name in Delaware include:
Names cannot contain the following words without the prior approval of the Delaware Banking Commissioner such as"Bank" or "Trust" or the Delaware Secretary of Education like: "University," or "College".
Besides these, names cannot contain any words that may be vulgar, disregarded or otherwise unacceptable in the judgment of the Delaware Secretary of State.
Reserve The Selected Name
No matter which type of business entity type you are willing to establish in the state of Delaware or you have already created your entity elsewhere and are merely looking for the authority to operate within state boundaries; you will have the opportunity to reserve an entity name.
Once you are done with Delaware Entity search, you can reserve your business entity name with the Delaware Secretary of State for a fee of $75. And the best part about reservation for the selected name in Delaware is that it can be completed online or mailing in a paper application or by faxing. You have 120 days to form your corporation by filing a Certificate of Incorporation with the state after the reservation of your name.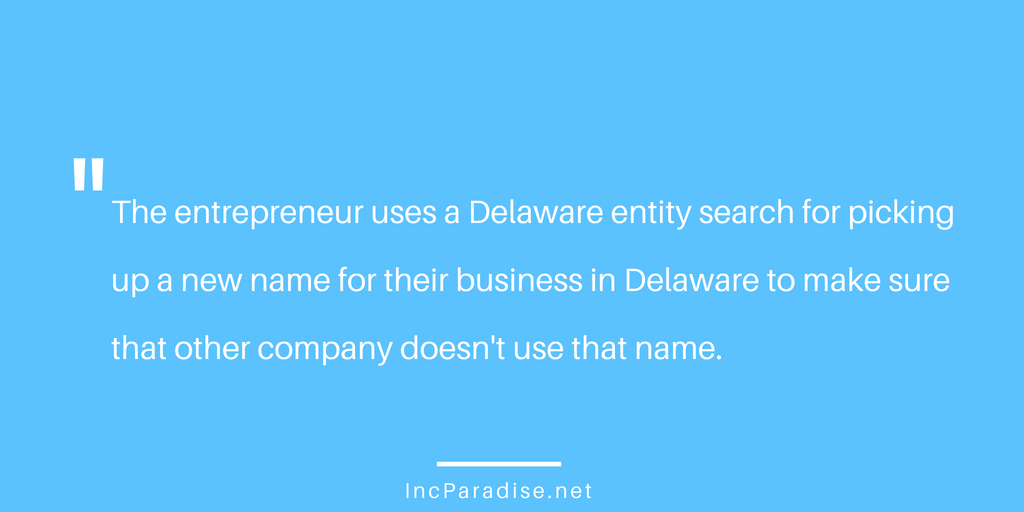 Revising Your Preferred Business Entity Name
Maybe you already have a name, but you aren't satisfied with it, and it doesn't represent the current direction of your company. Or perhaps your selected name is not available; so your best tactic is to compile a list of several possible names for your corporation.
For that, you'll need to search the online database for each name to determine the availability of the name. If your potential names aren't available, you may consider modifying one of your preferred names. Below mentioned are some of the ways to revise your selected name.
Substitute a sound-alike or look-alike word for the word that conflicts with an existing entity's name.
By adding "generic" word related to your company's industry. For example consider adding one of the following:"precision" "technology," "telecom," "industrial," "products" or "telecom."
By making one of the words plural with "s."
Substitute whole words for initials (or vice versa).
However, you must be thinking of adding "The" to your selected name in order to modify it, while it will not be sufficient, and changing the corporation signifier or abbreviation at the end will also not qualify. If you are still finding some difficulty while modifying your business name, so there are other common strategies for adjusting a corporation's name that include:
Substituting a foreign language word for its English language counterpart.
Find a synonym for the word causing the availability issue by consulting a thesaurus too.
Trademark Issues and Domain Name
In addition to the above rules for the Delaware entity search, it's also vital to figure out whether your name is infringing on the trademark or service mark of another business. This is one of the common mistakes that most entrepreneurs make while selecting the domain name of their business entity.
Entrepreneurs fail to realize that reservation and clearance of a business name with the Delaware Secretary of State do not guarantee that the name is available as an Internet domain name or is it a guarantee that use of the name will not formulate trademark infringement issues.
Internet domain names of a company can only be registered with an authorized commercial registrar through ICANN-WHOIS. There is no connection between ICANN and Delaware Secretary of State's entity database.
Well, trademark provides a unique identity to the products or services, while domain names can be called as internet resource locators. A domain can also be regarded as the internet address of a company which after many years of use becomes the identity for their diversified products lines.
Before you spend your hard-earned money on reserving a Delaware name or on forming a Delaware corporation, you have to search the trademark database of the U.S. Patent and Trademark Office for possible conflicts. The last thing you want, after investing in a company name, is to receive a cease letter from an existing business demanding that you abandon your new name and threatening a trademark infringement suit.
Conclusion
Delaware entity search and interpreting infringement risk can be tricky and challenging for new entrepreneurs. It would be the best decision that you ever made as it would protect you both legally and financially. Although some requirements need to be completed, if you keep all on track and place, you will enjoy the benefits perfectly well. So, if you need some help in selecting and reserving a name for your Delaware corporation, hire the professional like IncParadise today!