If you are just getting started with your new business or already own a small business entity, then ensure that you are cover and complete every compliance requirement from creating the best business plan to the incorporation of the company and business financing. Because starting a business is just the beginning. In order to operate legally, companies are required to comply with specific requirements regarding the labor practices, safety procedure and company's transactions with the federal and state governments.
But what will happen when your business doesn't comply with the appropriate rules and regulations for your industry with the state governments? Getting everything on board with a corporate compliance laws can be a challenge that affects compliance participation. Without the corporate compliance, you could be put out of business.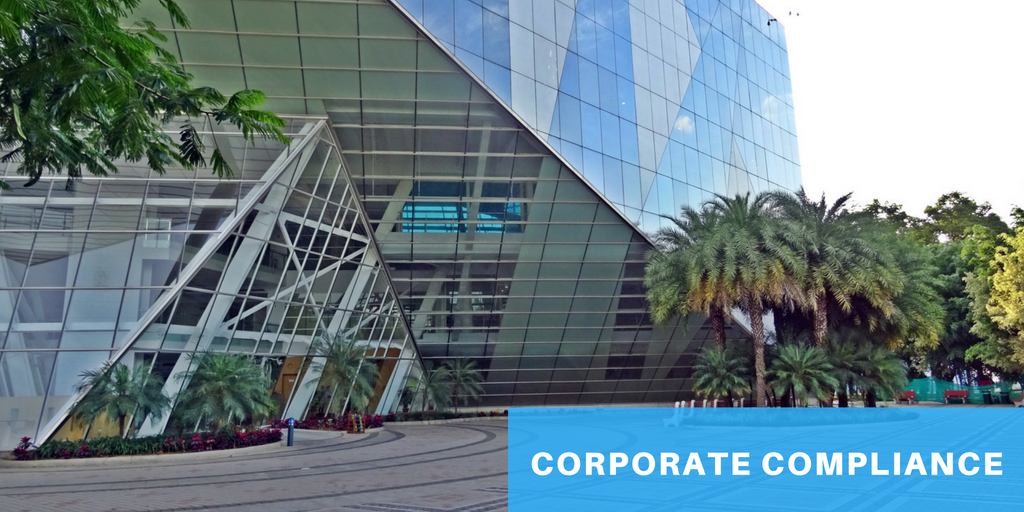 What is Corporate Compliance?
Before you can decide what to do with your business, and how will you maintain it in order to operate your company legally, the first thing you need to ask is that what is corporate compliance laws?
Well, Corporate compliance is an ongoing process specifying an organization's procedures, actions, and policies within a process in order to prevent and detect violations of laws and regulations of the state. It covers everything from keeping track of all the essential meetings to following the Inland Revenue Services tax codes.
Elements of a Corporate Compliance
By now you must understand the importance of compliance in business, the next thing is to manage all the essential elements of a corporate compliance program effectively. Compliance regulations are mainly divided into two categories- External and Internal Compliance.
The state governments typically require internal compliance measures for certain business entities (e.g., LLC, corporations); and they are formed and enforced internally by a company's top staff members. On the other hand, External compliance refers to those requirements imposed and executed by the federal or state authority.
Many industries including in the medical device, health and fitness, Pharmaceutical, financial advice and insure have their own codes of conduct. They often rolled their internal policies with the compliance laws requirements in order to create one overall program and makes it easier for a company to state that they comply with the law. Many entrepreneurs also perform audits to monitor compliance to stay away from the legal system problem.
Where to Start
As soon as you understand the importance of the elements of compliance in business, the first thing you need to figure out that what kind of rules and regulations would apply to your business entity. With the standard compliance requirements for incorporated companies and tax laws, you may also be subjected to comply with the requirements of HIPAA, OSHA safety, Licensing standards or ADA, and food safety depending on your type of business entity.
Corporations or large-sized businesses have strict internal requirements, which consist of conducting initial and annual director meetings, updating and creating bylaws, transcribing all stock transfers, forming a board of directors, and providing stock to shareholders.
On the other hand, small companies or LLCs, don't require the same requirements as corporations, but still, they are strongly advised to stay clear, and updated with the records of all the business transactions as well as with any modifications to the standards of compliance laws or relevant changes in operations.
Here are some of the steps which you need to follow, regardless of the size of your business-
Explore all compliance laws
The first and foremost step for forming one cohesive corporate compliance program is to start with the requirements of federal employment requirements and then work your way down to local rules and regulations. Well, the business owners are required to organize every condition into a central document which must be easily editable and accessible, ideally in a digital format. The documents include- the name of the agencies, phone numbers, address and where to get updated information.
Draft your internal policies
Since the requirements of internal policies are meant to ensure the ethical operations and optimum of a corporation, and it is up to the board staff members, executive and managerial to determine appropriate penalties for a given violation. So, you need to draft the standards of compliance laws for your vendors and employees which will include- behavior and ethics, hygiene requirements, procedures, and much more.
Entrepreneurs should also decide on how will they communicate with these documents. The documents could be in any of the forms- Employee Handbook, written into signed agreements, taught through training programs or illustrated in posted printouts.
What is Corporate Compliance?
Click To Tweet
Merge internal policies with legal requirements
The internal policies should always support the corporate compliance as well as the business culture, hygiene, office cleanliness, customer service standards and corporate culture and branding. In order to increase the credibility and to address any overlap, it's always advisable to consider making one cohesive compliance program.
Once your corporate compliance program is created, it should be reviewed by a human resource specialist and an employment lawyer in order to stay away from any legal system. If you are seeking for some help in order to maintain all the documents for your business, then hire professional like IncParadise and avail of all the services related to the documentation.
How to maintain corporate compliance?
As a matter of fact, effective compliance program provides a mechanism that brings the private and public sectors together to reach mutual goals of improving operational quality, the quality of health care, and in reducing fraud and abuse in the business and the costs of healthcare. Once you have your compliance laws policies in place, you will need to review them periodically and change them as per the requirements of your company in order to maintain corporate compliance for your business.
Setting the dates for scheduled compliance audits could be helpful for all the entrepreneurs, but it all depends on how you perform audits for your industry. If you are in need to update policy for compliance law, then you will need to plan a way to communicate with the rest of your company about the updating policy.
While in some cases, you may require a written acknowledgment from your company's vendors or employees. Most of the companies manage the compliance risk by keeping tighter control of issues that pose the highest threat to the business and easygoing monitoring of minor risks. So, it all depends upon the type of your compliance law policies which will you need to edit your audit procedures periodically as required.
When creating your audit procedures, consider the following factors:
Auditing, Disclosure, and Monitoring
The first and foremost pillar of a robust compliance law program is appropriately training company employees and officers, and third parties on corporate policies, relevant laws, prohibited conduct, and regulations. Well, the business owners need to audit their compliance programs in order to make sure that all the elements are actually being executed and periodically assess the program's effectiveness.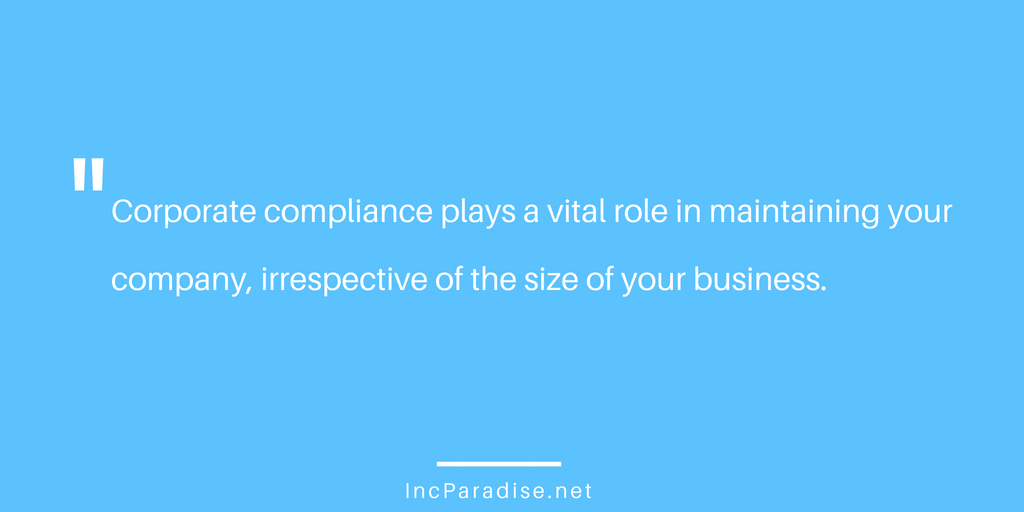 Conduct a Risk Assessment
As soon as you are done with the auditing, disclosure, and monitoring for your business in order to maintain corporate compliance, the second step is to conduct a risk assessment for your business. Which violations could close my company, risk the safety of customers or employees, might lead to litigation or could violate insurance requirements?
Company Culture and Branding
Well, many organizations are required to put in place all the paper programs that have no real effect on the operations of the organization in order to maintain corporate compliance. They are also in need to discover whether the cultures at the headquarters and all relevant business units are supportive of a robust corporate compliance program or not? This can be accomplished through independent reviews, surveys, and entity-level control assessments.
Communication and Effective Training
The compliance law of a business can't merely look strong on the paper. So, the business entities are required to implement the program through education and training effectively for maintaining corporate compliance. In the retail industry, training for many operators may need to include issues such as gifts and favors, confidential information, organizational property, proper accounting, fair labor standards, unfair trade practices, sexual harassment, reporting, and outside employment. More importantly, training and communication with the employees should not merely recite the law, but it should explicitly explain the company's policies.
Conclusion
Corporate compliance plays a vital role in maintaining your company, irrespective of the size of your business. If your business is in a highly regulated industry such as education, healthcare, insurance, and finance, then you'll be benefited from working with compliance professional like IncParadise to help you with audit procedures and building your compliance program.