Incorporating and launching a business in Delaware can be tricky and complex. But the incorporation of a company is a critical part of starting a business and to help it launch. Even though you might choose to incorporate your business in Delaware this 2019, the corporate laws in Delaware offer a lot of advantages that include a legal system that favors businesses, structural flexibility, and lower taxes. Additionally, investors and venture capitalists ordinarily prefer Delaware over many other states. Below are the five important steps to incorporate in Delaware.
Incorporate your Business in Delaware
Below are detailed steps that can help you in moving the right way after you have decided to incorporate and launch your business in Delaware. Each of the steps is divided into five main categories that have been explained further: Planning; First Steps; Certificate of Incorporation; Post-incorporation; and Financial Requirements.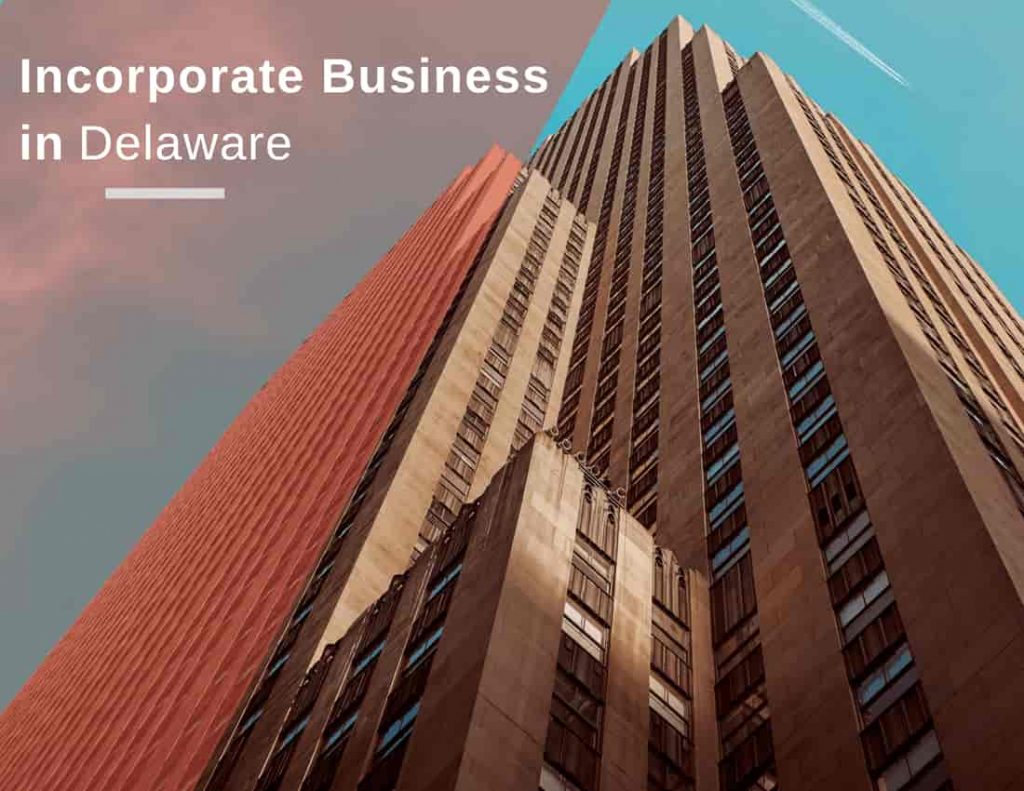 Planning
The steps under this are as follows:
When:

There isn't any deadline or a time-period for filing the paperwork for the incorporation of your website. Nevertheless, you would have to complete the incorporation process for receiving corporate protections, before entering into any contracts or doing business.

Review the employment contract you have.

Your employer might demand and eventually claim the intellectual property rights for anything that you start or build during the scope of your employment with them. This happens even if the thing is not directly associated with your job. Ensure that your employer is not able to claim your work.

Remove "lost founders."

A person is a lost founder when he makes a little contribution to the early development of a company, and after that has no further involvement. And after this, the person attempts to claim a part of the business after it has attained a lot of success. For anyone involved in your company, have that person sign a release in exchange for a small number of shares or cash so that it can be used as proof later on that they were paid in full for the contributions.

Legal advice.

Incorporating a company is a vital legal step, and that is why it is essential to connect with an attorney before you make any final judgments about how and where you are about to incorporate your company. Additionally, you can also consider joining an accelerator or an incubator program as they would be able to assist you in incorporating your business. They would also assist you in getting a good lawyer.

Payment for the shares of the founder.

The directors can pay cash, sweat equity, intellectual property, or other tangible property for the shares that they own. Determine how you would make any payments after you divide equity.

Vesting schedules for the founders.

Vesting schedules or vesting conditions are normally combined to take back the assets from the director who doesn't stay dedicated to the company. A standard vesting schedule will be 4-year with a double-trigger acceleration and 1-year cliff.

Divide assets.

Select the initial share for each founder of the company.

Have a questionnaire/checklist.

Build a questionnaire or a checklist of all the necessary legal, business, and capital raising goals. And before you get to the final decision, review the complete list with all the co-founders. Along with this, ensure that your plan would meet all the goals.
First Steps
The steps under this are as follows:
Eradicate your existing company. In case you have any existing partnership, LLC, corporation, or any other form of business that you are regenerating to a Delaware corporation, it is essential to dissolve that company in legal form within the state it is currently registered in.
Pick a sole incorporator.

A person who is above the age 18 and has the authority to file for the incorporation certificate on your behalf is called the sole incorporator. Usually, this is just like a formality after which the board of directors would take over as soon as the paperwork has been finished.

Reserve your company's name.

It is vital to select a unique business name that no other business in Delaware has it. Even though it is not required, filing the reservation of the company's name in advance secures and holds it for approximately 120 days till you finish the incorporation process. The fee for registering the name of your company is just $75 and can be paid online via your credit/debit card. Moreover, it is advised to contemplate filing for a product name or your company's federal trademark.

Choose a certified agent. The agent that you choose has to be a business or an individual who has a physical street address in Delaware. The person's job has to involve accepting legal papers on your behalf. You can visit the state of Delaware to get a list of the certified agents from the site. You can also take the help of Inc Paradise for this since we are Registered Agents in Delaware.
Attempt to review an incorporation questionnaire.

You can find one

here

from the Wilson Sonsini Goodrich & Rosati's law firm!
Certificate of Incorporation
The steps under this are as follows:
File the forms by fax or mail.

In case you require accelerated services, there are several choices including the one-hour processing service, but only at an additional price. You can contact Inc Paradise for this, and have it done within no time.

Complete all the forms including the certificate of incorporation.

Even though there are numerous Delaware regulated forms for the Certificate of Incorporation available, you are advised to adapt them to your company's needs exactly. In case you want to protect your privacy, this form could be filed anonymously without naming the members or directors on the certificate. This is allowed in Delaware but other states do not allow this, as they require this information to be a public record.

Non-standard capitalization (Optional).

In case you decide to have the other types of assets, like the restricted-voting stock or the preferred stock, you can define this in your certificate of incorporation. In case you do not add this choice and later want to have various share classes, you would be required to get permission from your shareholders.

Distributing equity to initial founders.

A standard number of founders shares considering there is an entirety of 10 million accredited shares would be 6 million shares.

Stock shares.

Establish the approved amount of shares along with their standard value. Legitimately, you can pick any number, virtually. Reasonably, ensure that you set a suitable estimate for the business, and you hold sufficient accredited shares for the future assets deals. A reasonable amount is 10 million shares of the common stock that has a standard price of the underlying assets at $0.00001 per share.
Post-Incorporation
The steps under this are as follows:
Build a privacy policy (Optional).

With a privacy policy, you would be able to make an estimate on how you would utilize the information that you gather online. This combines both the data that you request for, directly. For instance, an opt-in mailing list, and data you collect discursively, like site traffic statistics. Some countries and states need you to publish a privacy policy agreement on your site, f you have one.

Design terms of use (Optional).

The terms of service or the terms of use constitutes a contract dictating the utilization of your website or software. It usually incorporates payment terms, warranties, and disclaimers.

Comply with city-specific ordinances.

Local authorities might need additional licenses or impose zoning ordinances ruling where you can do business.

Comply with state-specific ordinances.

Every state you run the business in, would need additional licenses or permits ahead registering or incorporating as a domestic corporation. It combines the particular to individual activities or industries licenses and the general licenses.

Create a minute book.

This book would hold all the records of the shareholder and the board meetings. Even though it is not an obligation to file these records with the state, it is necessary as per the law to have these records in the event of lawsuit over the status of your corporation.

Design a stock incentive plan (Optional).

The shares for employee compensation benefits are received by the stock incentive plan, which then sets out the overall structure for how they might be claimed.

Sign CIIAAs.

The CIIAAs, also known as the Confidential Information and Invention Assignment Agreements, shields the intellectual property rights of the startups. This is done by distributing the inventions of founders to the startups, or contrarily expecting founders to hold established data confidential.

Register as a foreign corporation (Optional).

In case you are doing business in any other state or your home state, which is not Delaware, it is important to register your company as a foreign corporation with that state. You might additionally require specific permits or business licenses as per the rules of that state.

Request copies of your certificate and filing of good standing.

It is vital as the investors and the financial institutions would need them as a proof that you have registered the company properly. And the fee is just $50 per certificate for the Short Form Certificate of Status. This holds the name of the business along with the status of it at the time the certificate was issued. For the Long Form Certificate of Status, the fee is just $175, and it declares that every document that has been filed, where this includes the times and dates and any name alterations that happened with the status of the business at the time the certificate is issued.

Issue the stock certificates (Optional).

Issuing the stock certificates is not necessary and just an option that you can add in, but it provides shareholders an added formal record of the company's ownership in their hands.

Compose a shareholder agreement.

This agreement would basically define the rights of a shareholder, for example, the voting process, etc. It is better to have a shareholder agreement ready in hand before you search for any outside investments.

Adopt bylaws.

The bylaws of a corporation further describe how your company will operate and the obligations of the board of directors.

Sign founder's stock purchase agreements.

In this agreement, it would have the share of the equity of each founder and what they are offering.

Sign initial stockholder consent (Optional).

As per the Delaware law, the permission of the shareholders to take specific actions not stipulated in the articles of incorporation has to have another document for it. This comprises using stock incentive plans or adding classes of stock.

Sign initial board consent (Optional).

In case you've previously made all of the critical determinations before incorporating, or quickly holding your first board meeting is impractical, adopting a written primary board consent instead of holding the first board meeting can work well.

Designate the board of directors.

The initial board of directors is selected by the founders, and one of the final responsibilities of the sole incorporator is to formally designate the board. That is when the newly appointed directors would hold the first meeting and finish the outstanding incorporation steps. This includes the designating of the officers, establishing your accounting and tax periods, and issuing shares.
How to Incorporate your Business in Delaware
Click To Tweet
Financial Requirements
The steps under this are as follows:
File your annual report. As soon as you have incorporated your company, you would have to file the annual report and give the payment for the franchise tax before March 1st each year. In case the franchise tax would be more than $ 5000, it is essential for you to make the quarterly estimated tax payments.
File "blue sky" filings (State Security Filings, Optional).

Along with the Securities Exchange Commission (SEC) obligations, a state where you are endeavoring protection might additionally need you to register the libation or file financial information.

File form D (Federal Security Filing, Optional).

For declaring to the SEC that a person is offering the protection under a Regulation D exemption, the Form D is used.

Check securities law obligations.

You might have to register with your state under "blue sky" laws or with the SEC under the Securities Act of 1933, depending on the number of founders and the first investment they made.

Report vesting shares to the IRS.

As per the Section 83(b) of the Internal Revenue Code, in case you are selected to have vesting shares, you are required to notify the IRS within 30-day of giving the share.

(Don't) choose S corporation status.

But in case you want to select and operate as an S-corporation, you need to file the Form 2553 with the IRS. Also, it is advised not to do this in case you would search for outside equity investments since the law perilously restricts the number of shareholders and also who may be a shareholder.

Open a corporate bank account.

Since the corporation is a separate legal entity, you need to have a different bank account that is owned by the corporation for the corporate funds as per the law. For this, the bank would ask you for the EIN from the IRS.
Get Legal Help
For more details on the advantage of incorporating in Delaware along with the comparison to your own state laws, get in connection with a professional lawyer near you. And when you have decided to get it incorporated, contact IncParadise to have the process completed smoothly.